ISUZU GIGA fire truck
★ Isuzu GIGA fire truck is also known as ISUZU water fire fighting truck,ISUZU tank fire truck,ISUZU water fire fighting truck,ISUZU fire fighting truck. hot sale ISUZU tanker fire truck is refitted from a second-class Isuzu truck chassis. The special part is composed of liquid tank, pump room, equipment box, power output and transmission system, pipeline system, electrical system, etc. ISUZU fire pumper is widely used in urban public security fire brigade, petrochemical industry, Factories, mining enterprises, communities, forests, ports, docks and other departments can quickly approach the fire scene to start fire fighting and put out various fires. It is an ideal fire fighting equipment.
We customized isuzu foam fire truck according our client inquiry .
Give us a call now !0086-18727992788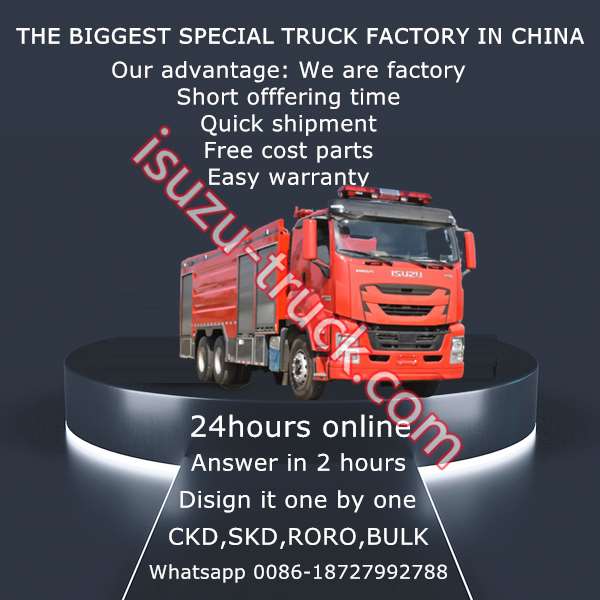 ISUZU GIGA fire fighting truck chasiss information
ISUZU GIGA fire truck
Truck name
FIRE FIGHTING TRUCK
Truck model
CLW5250GJBQL39
Main specific
Vehicle size
9500,9800×2550×3995(mm) 
Total weight
25000(Kg) 
Curb weight
13700(Kg) 
Rated weight
11170(Kg) 
Cabin seat
2
fuel consumption
43L/100km
A/D angle
17/17(°)
F/R hang
1370/2775,1370/3075(mm) 
Wheel loader
7000/18000 double
Wheelbase
3985+1370(mm) 
Axles quantity
3
Max speed
80(km/h)
Leaf spring
8/10
Tyre quantity
10
Tyre size
12R22.5 18PR,295/80R22.5 18PR,11.00R20 18PR
Front track
2065 
Rear track
1855/1855 
Engine parameter
Engine model
6UZ1-TCG51
Displacement/power
9839ml/350kw
ISUZU 20KL FIRE  TRUCK BODY PARAMETER
Tanker volum
20m3
Vehicle specific
Water tank : 20000L

Fire pump :

Normally pressure pump :
cb10/60

Pump flow meter :60l/s

Pump Pressure 1.0mpa
low pressure pump
pump model : cb20.10/30.60

Low pressure pump flow meter: 60l/s/1.0mpa

Middle pressure flow meter : 30l/s/2.0mpa

Max suction depth : 7 meters

Diversion time: less than 50s

water sprayer range ≥65meters
ISUZU WATER FIRE TRUCK STRUCTURE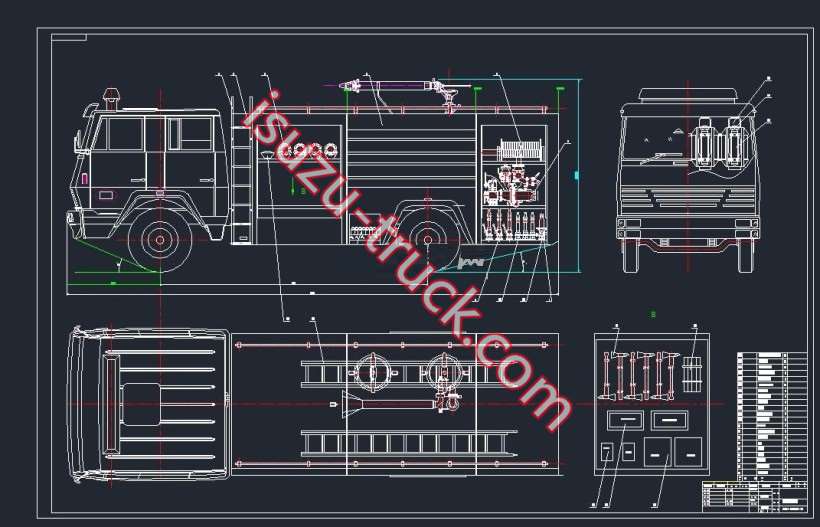 Feature
★ The ISUZU fire fighting trucks produced by Chengli include (light, medium and heavy) water tanks, foam, dry powder combined use, dry powder carbon dioxide, multi-functional lighting, emergency rescue, front towing and rear hanging, fire command vehicles, etc. Recently, our factory has specially developed A new class A foam fire truck was released. Different grades of 2-15 tons are widely used in public security, fire brigade, large industrial and mining enterprises, chemical industry, smelting, forest fire prevention, airports, urban construction, sanitation and many other fields, and can fully meet the needs of different fields.
★ For users who have special requirements for fire trucks, please call 0086-18727992788. We can design and refit for users' orders, and can install preheating and heat preservation devices, sprinkler functions, lighting equipment, steering assist, air conditioning and other accessories.
Wherever there is a fire, there is our Isuzu water fire truck.
Give us a call now ! 0086-18727992788