30m fog cannon gun ISUZU fire truck
30m cannon ISUZU fire truck named ISUZU water cannon fire truck .ISUZU water gun fire fighting truck,ISUZU fog sprayer fire agent,ISUZU fog sprinkler fire pumper ,water fog spraying fire engine,ISUZU water gun fire  rescue car, specification ,ISUZU water gun fire agent for sale, fire pumper, fire engine,fire appliance,fire rescue vehicle, fire equipment ,fire fighting tender,fire water truck,fire extinguisher water truck, fire rescue tanker truck, fire pumper)
30m cannon ISUZU fire truck Main useful
ISUZU crane fire truck is widely used in urban public security fire brigade, petrochemical industry, Factories, mining enterprises, communities, forests, ports, docks and other departments can quickly approach the fire scene to start fire fighting and put out various fires. It is an ideal fire fighting equipment.
Main information of this water cannon gun fire vehicle
model No.: ISUZU 4×2 FVR ISUZU water sprayer fire tender
Engine model: ISUZU engine Power: 95kW
Drive type: all-wheel drive shaft Distance: 3,110 m m
Emission standards: GB3847-2005, GB17691-2018 country 6
cannon: it fixed front of the cabin top
Main specific  list of the ISUZU water gun fire truck
Item
Name
Parameter
1
Chassis
Chassis model
QL1040A1KWY
Engine model /power
4KH1-TCG40/88KW
Wheelbase
3360mm
Cabin seat
2+3
Max speed
105km/h
2
Size
Overall size
Length
5820
Width
2000
Height
2820
F/R hang
1015/1890mm
3
Mass
Curb weight
Whole vehicle
4330
Front axles
1530
Rear axle
2800
Filling weight
Whole vehicle
6700
Front axle
2080
Rear axle
4620
4
Tanker
Volume
Water
2500L
5
Fire pump
Low pressure (L/s/MPa)
20.0/1.0
 Other
Rotation angle (°)
360
Pitch angle(°)
-15~45
30m water cannon information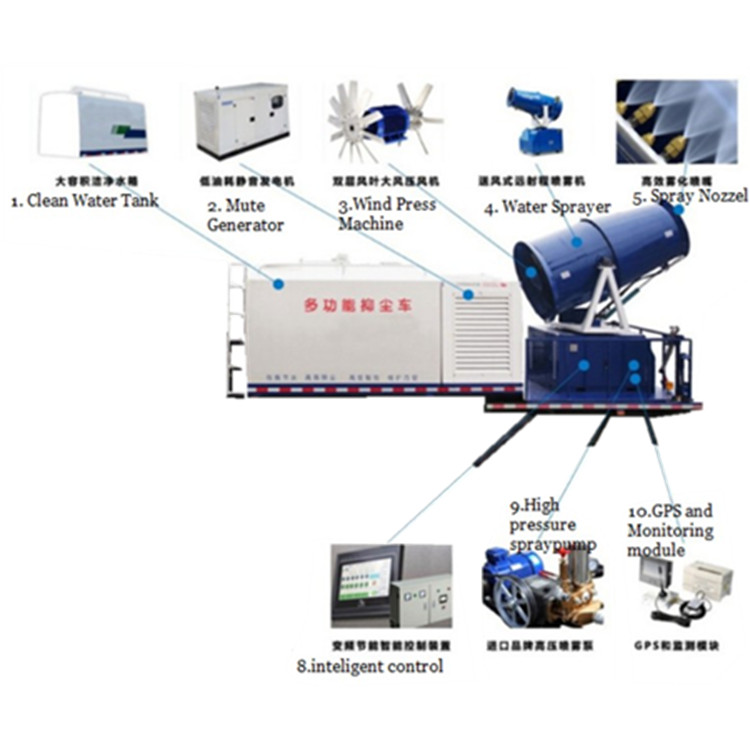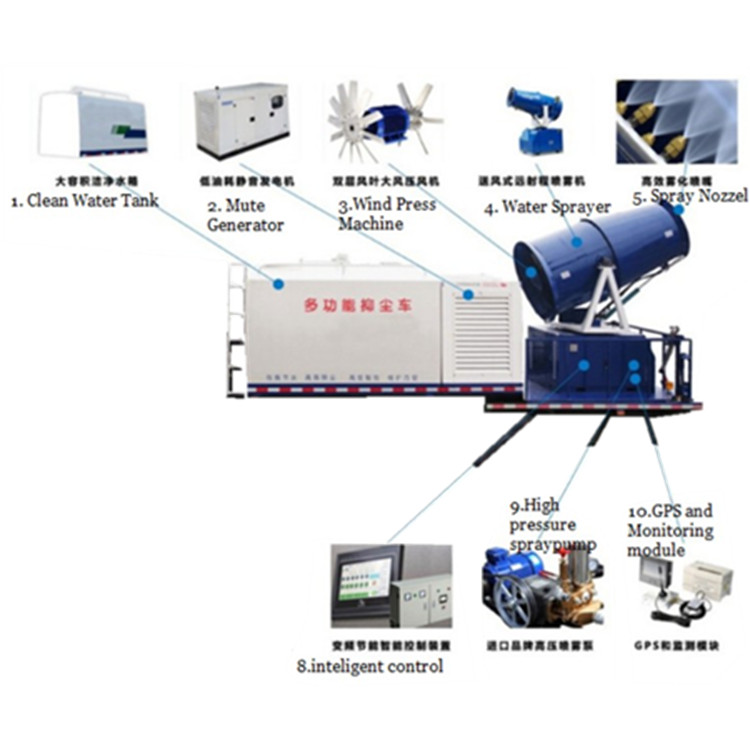 Fogger information
Fogger model
CLW-30
Static wind maximum range
30(m)
Generator
Diesel generator 8.5(KW)
Fan engine power
3(KW) fan plate
Drive water pump power
2.2(KW)
Fan range
30m
Covered area
3000m²
Fan power
3Kw
Fan air volume
19880m³/h
Fan wind pressure
566pa
Water pump power
2.2Kw
Pump pressure
0~3.5MPa
Pump flow
18-50L/m
Number of water rings
Double stainless steel water cycle type
Number of nozzles
16pcs
Rotating electric machine
0.25kw
Rotation angle
0°~360° adjustable
Hydraulic motor
0.25kw
Pitch angle
.-5°~90° adjustable
Supporting power
8.5KW 6
Base size
Split
Dimensions
550x1100x1700
Remote control distance
30meters
Power supply
AC380v,51Hz Three wires and four phases
Equipment fog sprinkler fire truck
Conventional configuration of fire fighting equipment of foam fire truck:
Fire water suction pipe (diameter: 10cm, length: 4m) × 2 pcs
Water filters x 1pcs,
Fire hose (caliber 6.5cm, 20m long: caliber 8.5cm, 20m long) × 2 pieces,
Hose hitch × 4pcs,
Hose wrapped cloth × 4 pieces,
Reducer (diameter 6.5-8.5cm) × 2 sets,
Same type interface × 1 set.
DC water gun (caliber 6.5cm) × 1 set,
Flowering water gun × 1 set,
DC switch water grab × 1 set,
Pick × 1pcs,
Floor wrench × 1pcs,
Waist axe × 1pcs,
Fire wrench × 1pcs,
Shovel × 1pcs,
Pry and carry × 1pcs.
Advantage of our ISUZU fog sprinkler fire pumper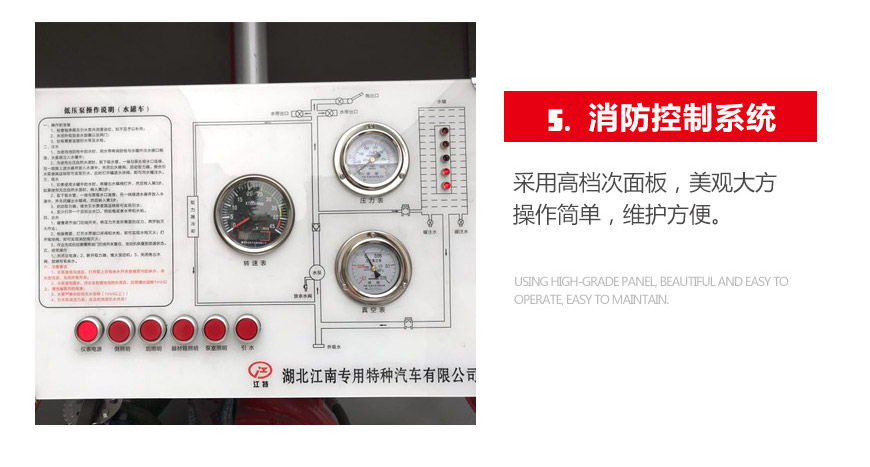 Two, the cab
bear Structure: the original car double seat cab, with ISUZU interior and seat seat setting: 2 + 3 people


Fire pumper structure 
philippine fire pumper Feature
water fog spraying fire engine
Main material:
The skeleton and skin are high quality carbon steel; the internal frame is aluminum alloy profile and the interior panel is oxidized aluminum plate.
fundamental structure:
The front of the vehicle is the cab and the rear is the equipment box.
The equipment box is a frame welding structure to ensure its strength and stiffness, with a lock rolling shutter door.
Equipment box use Aluminum alloy profile, and the horizontal and vertical tray or tool box can be set up according to the specific requirements for the placement of equipment.
The equipment box is reliable, beautiful, and the space can be adjusted at will, it has a large space curtain door, to ensure the full use of the space.
The compartment fixes lighting lights to meet the lighting needs of fire fighting at night.


Aluminum alloy rolling shutter door:

All equipment boxes are used with lock shutter door, handle and lock pin are durable, without deformation, sealing performance after water shower experiment, to ensure no leakage phenomenon.
In the slide on both sides of the rolling shutter door fixes rivets to avoid falling off.
There are lights in each equipment box, controlled by opening and closing the shutter door.
aluminum alloy curtain door, a rear tail, safe and reliable, beautiful and practical fixes left hand right.
Questions of the ISUZU water cannon fire agent
How to get ISUZU water gun fire engine specific?
Contact our factory ,we will share details of the ISUZU pickup fire tank lorry .
How to import a ISUZU  fire tender to Philippines?
We can shipment the ISUZU  fire  tender to your country directly .
Do you accept add our own logo on the ISUZU  fire engine?
yes , it is .
How long of the ISUZU fire vehicle delivery to philippines?
25 working days .
Wherever need rescue, there is our Isuzu fire tanker.
Give us a call now for fire fighting tank vehicle ! 0086-18727992788