4×2 4TONS ELF ISUZU ice cream refrigerator truck
ISUZU ice cream refrigerator truck named ISUZU Refrigerated truck ,van refrigerated lorry ,ISUZU frozen food transport box truck ,ISUZU ice cream reefer truck,ISUZU freezer box van ,ISUZU refrigerator van , ISUZU refrigerated lorry,ELF refrigeration carrier,refrigerated transport vehicle,freezer loading vehicle  is a van carrier vehicle designed to delivery frozen food trucks as specific temperatures .
ISUZU ice cream refrigeration truck can be freezer colded, ISUZU freezer truck , equipment with one high quality refrigeration system , and make one freezer van body, Sandwinch type box .
We supply ISUZU refrigerated truck with capacity from 1.5tons to 35tons .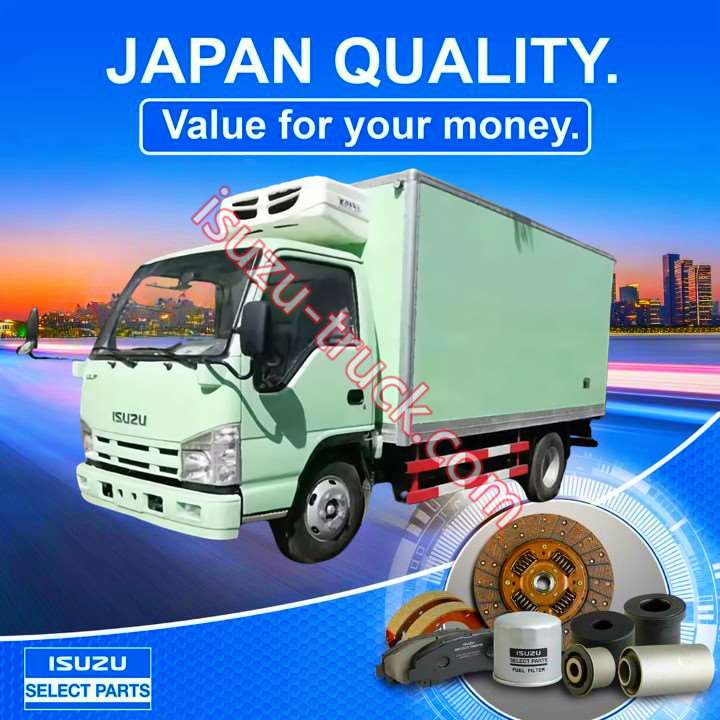 Function of ice cream reefer truck
A refrigerated truck refers to a closed van transport vehicle used to maintain the temperature of frozen or fresh-keeping goods. A refrigerated truck is a special refrigerated transport vehicle equipped with a refrigeration unit of a refrigeration unit and a polyurethane thermal insulation compartment. Carrying capacity, carriage type to classify.
Refrigerated trucks are often used to transport frozen food (refrigerated trucks), dairy products (dairy trucks), vegetables and fruits (fresh goods trucks), vaccines and medicines (vaccine trucks), etc.
reefer van  Highlight Features 
——ISUZU chassis with air condition .
—–ISUZU engine & transmission , high light power .
—–ISUZU refrigeration system can be choosed
—–Delivery temperature can be from -25C to +8C
Main specific of ISUZU ice cream transport truck
ISUZU reefer van  Products Technical Specification

ISUZU reefer van  Brand & Series
4×2 ISUZU Refrigeration truck
Fuel type
Diesel
Emission Standard
Euro 3
Cabin
Single row
Overall dimensions (L×W×H)
6000×2080×2790 mm
G.V.W
8495kg
Curb weight (chassis)
2850kg
Loading capacity
5000kg
Engine & Chassis
Engine model
4JB1CN
Maximum power
72kw/ 100 hp
Displacement
3856
Number of cylinders
4
Engine Manufacturer
ISUZU Diesel Engine Co., Ltd.
Gear box
5 forward gears & 1 reverse
Drive Axle
3T
Brake system
Air braking
Steering wheel
Left hand drive
Electric device
24V
Tyres & Quantity
7.00-15 10PR
Cooling box Description
Cooling box dimensions (L×W×H)
4100*1740*1740mm
Cooling box Volume
12.5m³
Cooling box material
with vacuum pressed panel, Internal finish white gel coat FRP.Heavy duty carborundum grit, non slip polyester resin floor, reinforced with min 1000 grm combination glass fiber matting coved to the walls to provide a watertight pan.
reefer van  Cooling box thickness
800 mm
Back Door
Hinged door
Side door
Optional
Refrigeration systems
Equipped with China Huatai Brand
Temperature Range
Normal temperature 25°C,refrigeration temperature reached -18°C to 0°C
ISUZU ice cream reefer truck Others
Stainless Steel door frame,Stainless steel corrugatedfloor, Mark lamp at the four (4) corners f the

body,Room lamp will be provided inside the cabin.

chilly truck Box  Description
1. Shape:Rectangle2. Material:FRP and color steel and Polyurethane foam insulation

3. Thickness:8cm

4. Left hand drive

COLD ROOM TRUCK EQUIPMENT

1.internal- 4 elements, vacuum pressed panels, internal finish white gel coat FRP,                        2. External (2.2 mm white gel coat woven roving. All joint glued and urethane sealed, External corner capped with radiuses aluminum extrusions -).Floor –heavy-duty carborundum grit, non sleep polyester resin floor, reinforced with minimum1000 grm combination glass fiber matting coved to the walls to provide a water tight pan

3.Rear frame – welded stainless steel (DP1 304) rear frame. Rear frame header incorporated rainwater canopy. Welded stainless steel (DP1 3040) side door frame.

4.Double rear doors- double rear doors with min 25 mm stainless steel door furniture and refrigeration furniture door seals. Door wear plated, door buffers and stainless steel door retainers are must be included.

5.Refrigeration unit –one carrier or equivalent, diesel powered refrigeration unit 3 PH mains standby to operate at temperature down to -18 degree© fitted with 12 volt battery and fed from the vehicle own fuel tank.

6.Internal Fittings:-In cab digital temperature read out 2 rows heavy duty, stainless steel load lock track,2 reassessed, cab-operated interior lights. Aluminum fridge evaporator guard .PVC Thermal strip curtains to rear doors, PVC Thermal strip curtains to side doors, 1 row of 225mm anodized aluminum rub rail.

7.External fittings:-1. Mudguard and spray suspensions, aluminum cab catwalk, aluminum bulkhead access ladder, anodized aluminum side guard system, under run bar, rubber chocolate block buffers, side and rear marker lights, side and rear marker plates, single folding stainless steel and aluminum step, pull-out side step

chilly truck Optional Configuration (√:Standard Equipment o:Optional ×:Not Available)

A/C
o
Power Steering
√
Side bumper
√
Rear bumpe
√
Wind deflector
√
 Radial tire
o
Ventilation slots
o
Standby power
o
FOB shanghai price
ISUZU refrigerator truck body details
ISUZU refrigerated truck inside foaming material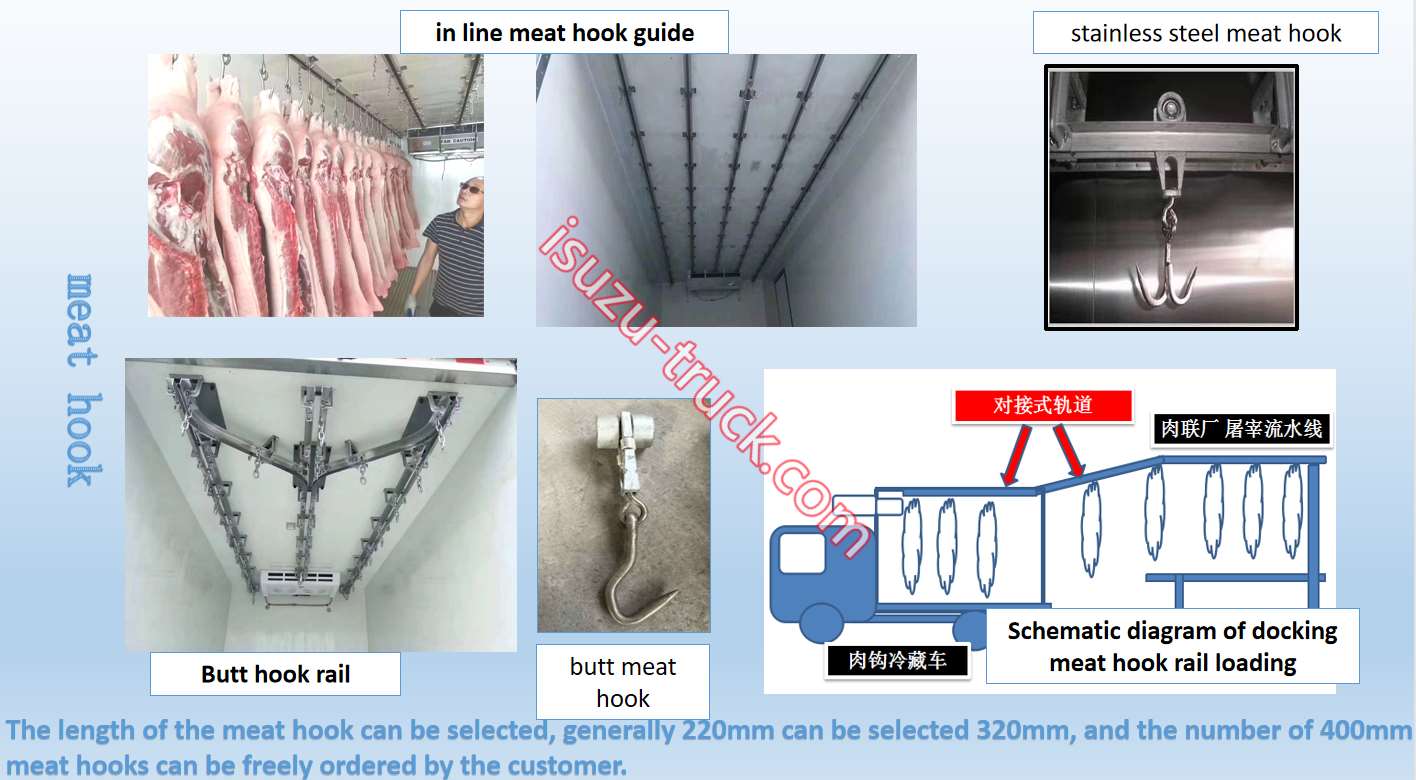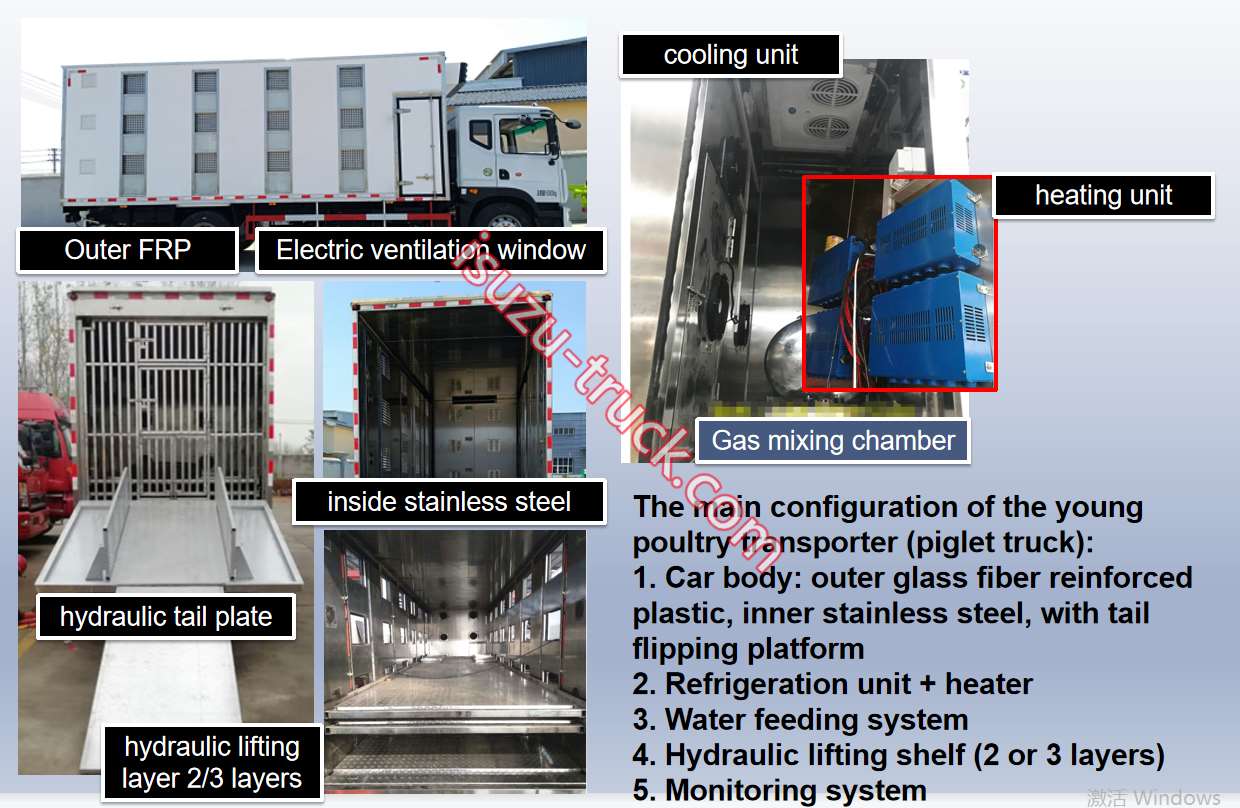 Transport deifferent fresh ,cold, freezer goods.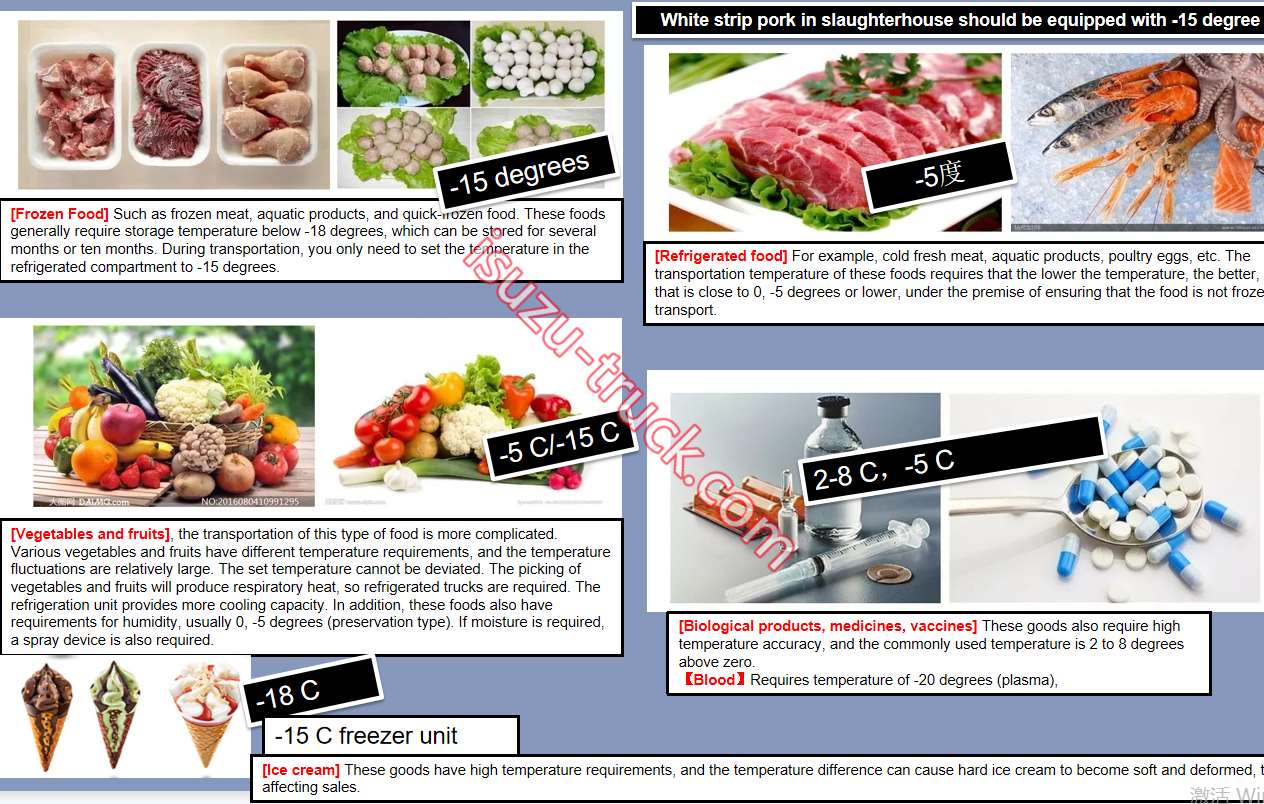 WHERE HAS HUMANS ,WHERE HAS OUR ISUZU REFRIGERATED TRUCK
Give us a call now !0086-18727992788