ELF double cabin fridge chiller lorry
ISUZU ELF fridge chiller lorry named Refrigerated van ,refrigerator box truck , ISUZU reefer box cargo,ISUZU refrigeration transportor,ISUZU refrigeration transport vehicle,freezer chiller loading vehicle truck is a van truck designed to delivery frozen food trucks as specific temperatures .
cold chain reefer differ from simple insulated and ventilated vans (commonly used for transporting fruit), neither of which are fitted with cooling apparatus(theromking or US carrier ).
Refrigerator cars can be ice-cooled, keep vegetables fresh, frozen foods equipped with any one of a variety of mechanical refrigeration systems powered by small displacement diesel engines, or utilize carbon dioxide (either as dry ice or in liquid form) as a cooling agent.
They are often equipped with small "vent doors" at the rear and front of the trailer.
The purpose of these doors is to be kept open while hauling non-refrigerated cargo (often "backhaul"), so as to air out the trailer.
4×2 left hand drive KV100 4tons ISUZU chiller lorry 
ISUZU reefer box truck Highlight Features 
——ISUZU chassis with air condition .
—–ISUZU engine & transmission , high light power .
—–ISUZU refrigeration system can be choosed
—–Delivery temperature can be from -25C to +8C
—–Use on cold chain
—- Install theromking or US carrier refrigeration unit
 Products Technical Specification frozen meat food transportation truck
Brand & Series
4×2 ISUZU Refrigerator truck
Fuel type
Diesel
Emission Standard
Euro 4
Cabin
Single row
Overall dimensions (L×W×H)
5900×2080×2590 mm
G.V.W
5495kg
Curb weight (chassis)
2850kg
Loading capacity
3000kg
Engine & Chassis
Engine model
4JB1CN
Maximum power
72kw/ 98 hp
Displacement
2999
Number of cylinders
4
Engine Manufacturer
ISUZU Diesel Engine Co., Ltd.
Gear box
5 forward gears & 1 reverse
Drive Axle
3T front axles , and 5tons rear axles
Brake system
Air braking
Steering wheel
Left hand drive
Electric device
24V
Tyres & Quantity
7.00-16 10PR
Cooling box Description
Cooling box dimensions (L×W×H)
3500*1740*1740mm
Cooling box Volume
10.6m³
Cooling box material
with vacuum pressed panel, Internal finish white gel coat FRP.Heavy duty carborundum grit, non slip polyester resin floor, reinforced with min 1000 grm combination glass fiber matting coved to the walls to provide a watertight pan.
Cooling box thickness
80 mm PU OR FRP
Back Door
Hinged door
Side door
Optional
Refrigeration systems
cold room van Equipped with China Huatai Brand
Temperature Range
Refrigeration temperature reached -5°C to 0°C
Others
Stainless Steel door frame,Stainless steel corrugatedfloor, Mark lamp at the four (4) corners f the

body,Room lamp will be provided inside the cabin.

Box  Description
1. Shape:Rectangle2. Material:FRP and color steel and Polyurethane foam insulation

3. Thickness:8cm

4. Left hand drive

Equipment
1.internal- 4 elements, vacuum pressed panels, internal finish white gel coat FRP,
ISUZU refrigerator truck body details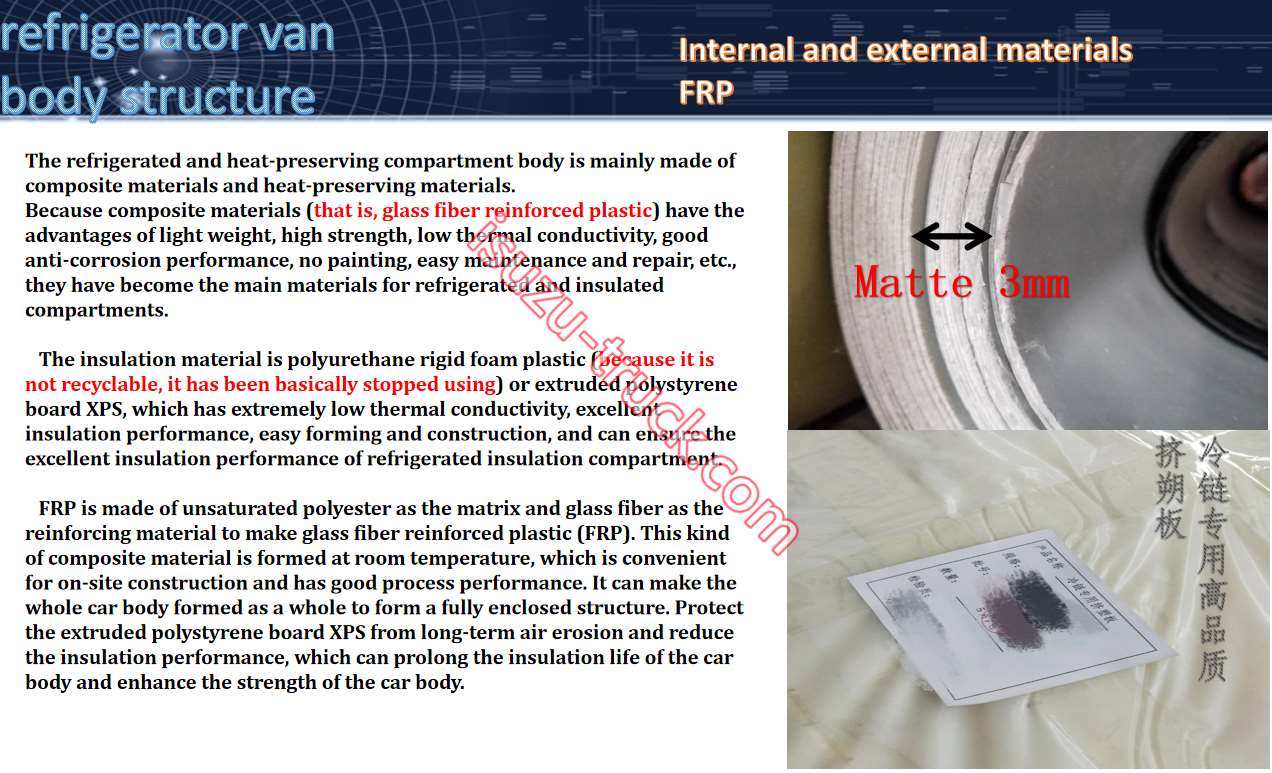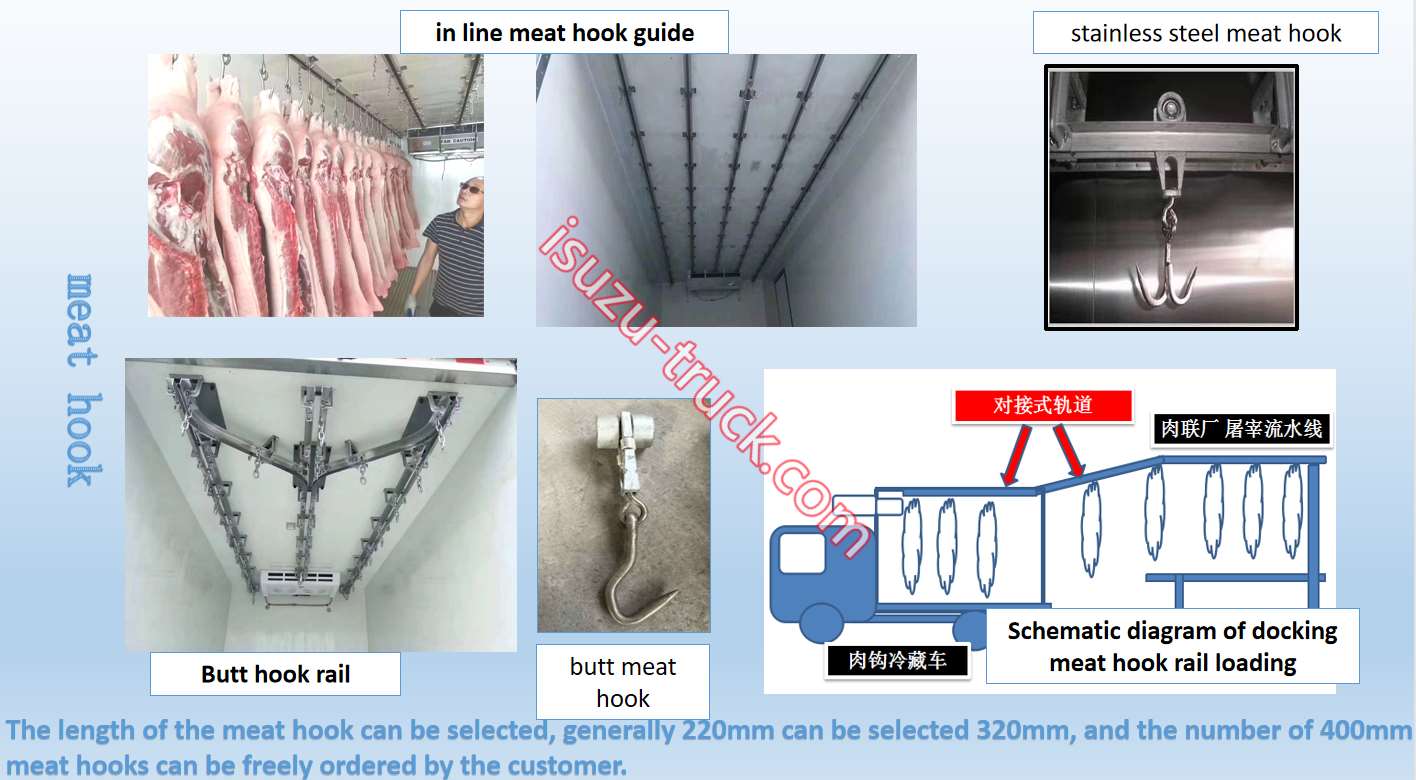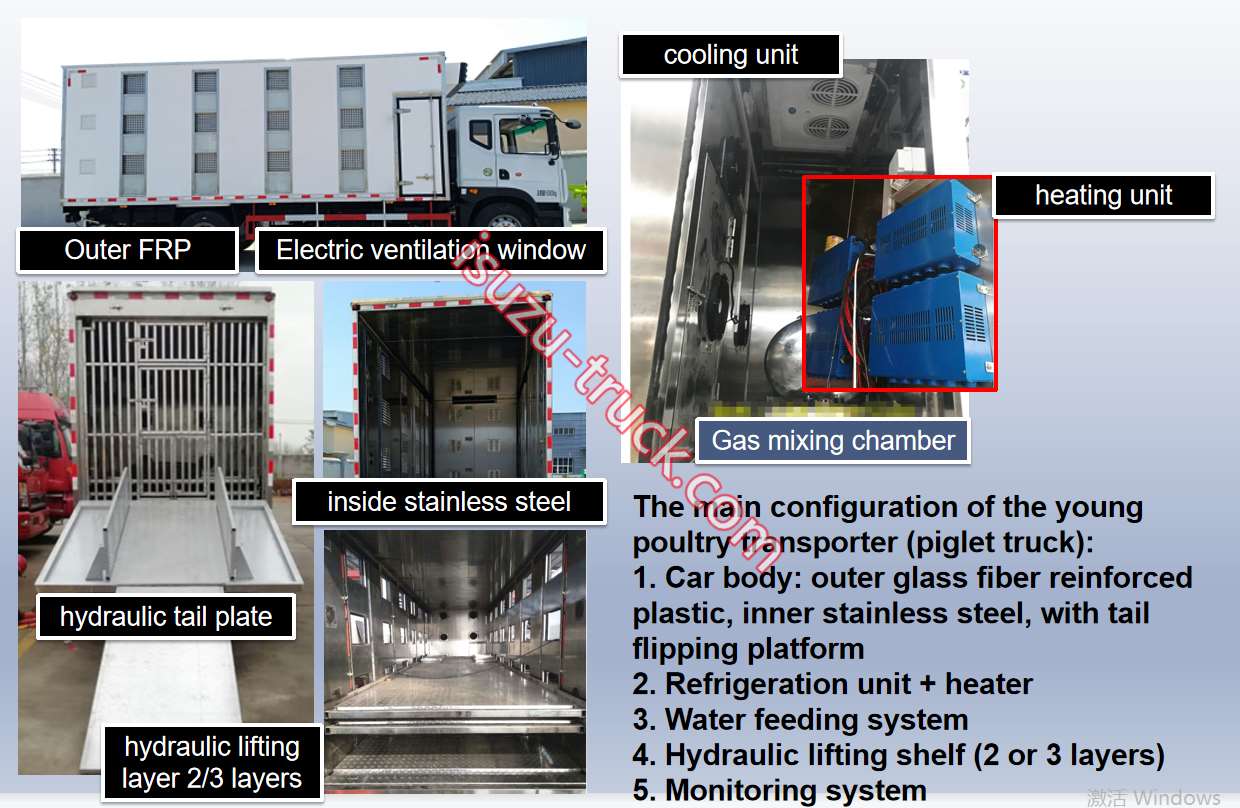 ELF chiller lorry  Transport deifferent fresh ,cold, freezer goods.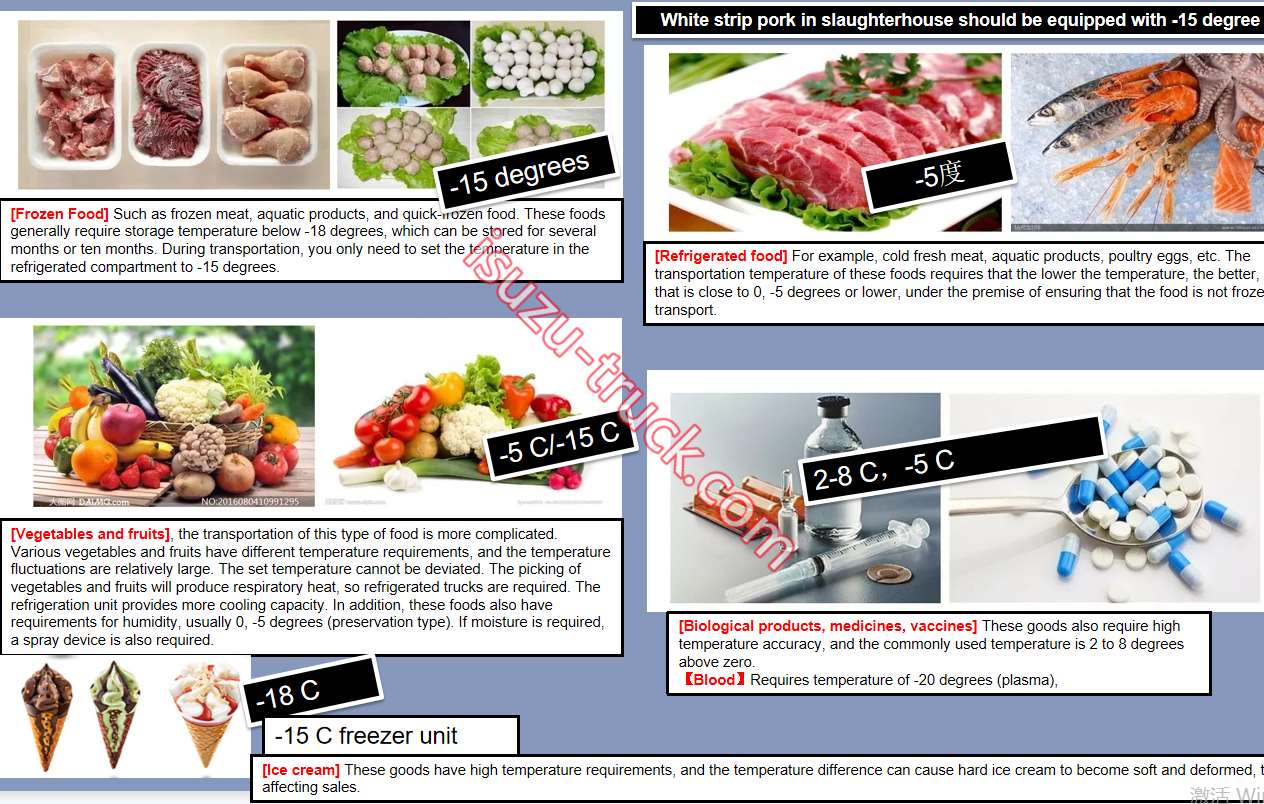 WHERE HAS HUMANS ,WHERE HAS OUR ISUZU REFRIGERATED AND INSULATED  TRANSPORT TRUCK
Give us a call now !0086-18727992788