5000L 4×2 left hand drive sewer vacuum vehicle
ISUZU sewage suction truck for sale
 ISUZU Vacuum Suction Truck (also known as ISUZU sewage tank truck ISUZU Vehicle Sewage Vacuum Cleaner.) Used to collect, transport and discharge sewage, sludge, pit septic tanks, crude oil and other small liquid and solid substances.
Whether Vacuum Truck is a fixed toilet or a mobile toilet, there is also a septic tank. Isuzu sewage suction trucks can all come in handy. The sewage tank body of the truck is made of high-quality carbon steel.
ISUZU sewage tank truck is equipped with a water circulating sewage suction pump or a vacuum sewage suction pump, and is equipped with a galvanized ball valve to form a sealed pressure tank. The strong suction can Let all kinds of stones, mud, oil, waste, etc. have nowhere to hide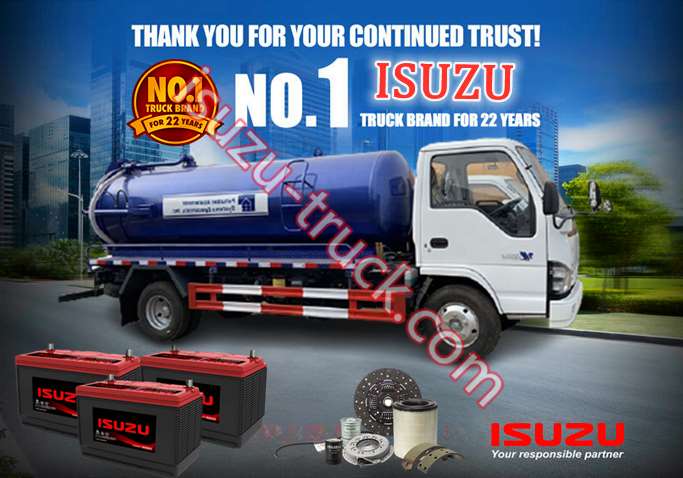 Give us a call now !0086-18727992788
Main information of the ISUZU cesspit suction truck
General Details of the , ISUZU Cesspit Vacuum Truck 
Production Quantity
1 to 200 per month
Model of the ISUZU sewer suction truck
600P,KV600
 Vacuum tanker chassis
4×2 left hand drive
Condition
New
Manufacture
Chengli special automobile co.,ltd
Transmission
Manual 5-speed
Vacuum truck number of axles
2(front one , rear one)
Engine capacity
130HP ISUZU engine 4HK engine

Vacuum Tanker

5000Liters

5mm Carbon steel

High quality water cycling sewage pump

suction depth:7meters

ISUZU sewer suction vehicle Exterior
According client request

Red ,green,white ,yellow etc

Payment term
T/T.L/C,paypal
Warranty
1 year
Training
We offer free cost training
Convenient transportation
Near has high speed train station (suizhou train station )

Has nearest air port (Wuhan tianhe international airport )
Introduction of sewer suction truck functions:
The ISUZU cleaning sewage suction truck is also called a multifunctional sewage suction truck or a combined dredging vehicle.
Assembly parts
The special part is composed of power take-off, drive shaft, vacuum sewage suction pump, water-gas separator, multi-way reversing valve, clean water tank, window, vacuum pressure gauge, pipe network system, etc.:
Useful
used for suctioning sewage and sludge It has the characteristics of high suction efficiency, self-priming, self-draining and direct irrigation. It is widely used in sanitation, municipal, chemical, factory and mining enterprises in large, medium and small towns. , property community use.
And on the basis of the sewage suction vehicle, the high-pressure cleaning vehicle function is added, which can be used for two purposes, saving money and effort, and is cost-effective.
The tank body and metal accessories are treated with phosphating before painting, sprayed with polymer anti-corrosion primer and metal topcoat, with strong adhesion, good corrosion resistance, uniform paint film, bright and lasting color, improved aesthetics, and can withstand In humid, dusty, salt spray and other adverse environments, long-term use will not cause problems such as cracking, peeling, fading, etc., which not only improves the aesthetics of the product, but also effectively prevents corrosion.
This high-pressure cleaning and cleaning sewage suction truck integrates the functions of washing, dredging, sewage suction and reverse discharge.
It is used for the suction of various liquid, semi-liquid, and sludge, feces, waste water and other media under various ditches. It is used for suction, shipment and discharge, and can also be used for emergency treatment of sudden environmental pollution accidents.
This will greatly improve the efficiency of cleaning and suction trucks and enhance their operational capabilities.
Breaking through the previous cleaning and sewage suction truck products using advanced technology from domestic and foreign companies, through digestion and absorption, and fully utilizing vacuum technology, the double anti-overflow pump device can better avoid overflow and prolong the service life of the vacuum pump.
The whole vehicle has reasonable design and structure, excellent performance, flexible and simple operation.
Start the vehicle, hook up the power take-off, drive the sewage suction pump, and the sewage suction pump operates to extract the air in the sewage tank.
Since the sewage suction hose is always immersed in the liquid surface, after the air in the sewage tank is sucked, it cannot be Supplement and become thinner and thinner, so that the pressure in the tank is lower than the atmospheric pressure, and the sewage liquid enters the container through the sewage suction hose under atmospheric pressure;
Where there is a toilet, where there is mud, where there is waste, there is an sewage suction truck.
An this kind truck can give you a clean world!
welcome you come to china and visit our factory any time .24 hours hot line 0086-18727992788(xi chen)