double cabin ELF 3000L ISUZU fire tender
ISUZU fire tender   also named ISUZU fire fighting truck,ISUZU fire truck,ISUZU  foam fire truck , ISUZU water tanker fire truck ,ISUZU fire agent ,ISUZU foam fire tank truck , ISUZU powder fire tanker truck , ISUZU dry powder fire fighting truck , ISUZU ladder fire water truck , ISUZU high jetting fire tank truck , ISUZU 55meters jetting pressure water fire truck , fire pumper,fire engine,fire appliance,fire rescue truck, fire equipment ,fire fighting tender,fire water truck,fire extinguisher water truck, fire rescue tanker truck, fire pump truck)
fire tender Main useful
ISUZU water fire truck is widely used in urban public security fire brigade, petrochemical industry, Factories, mining enterprises, communities, forests, ports, docks and other departments can quickly approach the fire scene to start fire fighting and put out various fires. It is an ideal fire fighting equipment.
Main information of this fire vehicle
Item
Name fire tender
Parameter
1
Chassis
Chassis model
QL1040A1KWY
Engine model /power
4KH1-TCG40/88KW
Wheelbase
3360mm
Cabin seat
2+3
Max speed
105km/h
2
Size
Overall size
Length
5820
Width
2000
Height
2820
F/R hang
1015/1890mm
3
Mass
Curb weight
Whole vehicle
4330
Front axles
1530
Rear axle
2800
Filling weight
Whole vehicle
6700
Front axle
2080
Rear axle
4620
4
Tanker
Volume
Water
3000L
Foam
200L
Size
Water  tank
3000L
Foam tank
200L
5
Fire pump
Low pressure (L/s/MPa)
30.0/1.0
 Other
Rotation angle (°)
360
Pitch angle(°)
-15~45
Fire pumper structure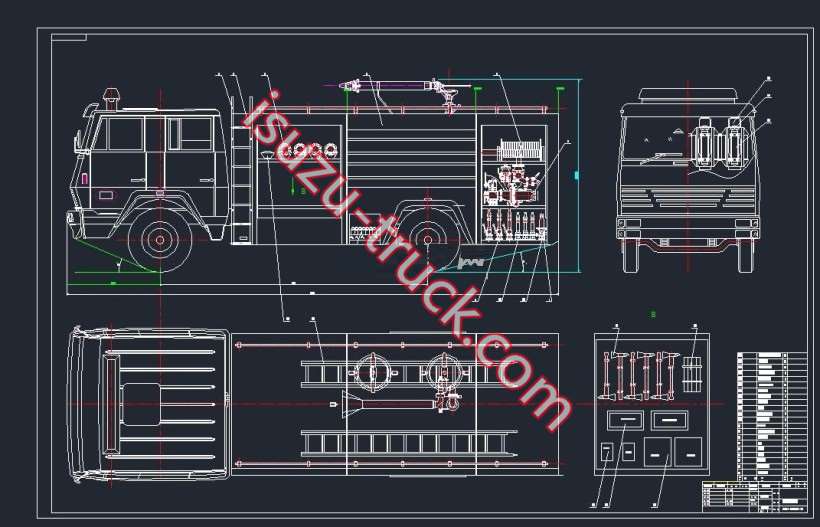 fire agent Feature
★ The ISUZU fire pumper  produced by Chengli include (light, medium and heavy) water tanks, foam, dry powder combined use, dry powder carbon dioxide, multi-functional lighting, emergency rescue, front towing and rear hanging, fire command vehicles, etc. Recently, our factory has specially developed A new class A foam fire truck was released. Different grades of 2-15 tons are widely used in public security, fire brigade, large industrial and mining enterprises, chemical industry, smelting, forest fire prevention, airports, urban construction, sanitation and many other fields, and can fully meet the needs of different fields.
★ The Isuzu fire agent has a streamlined design, novel appearance, flexible maneuverability, economical and practical, and high-strength aluminum alloy profiles are used for the partitioning materials of the internal equipment racks, which are beautiful and elegant. All kinds of equipment are reasonably placed and fixed with special special fixtures. The curtain door is a high-strength aluminum alloy curtain door, with reliable opening and closing, low noise and good sealing performance.
★ For users who have special requirements for ISUZU fire fighting truck hot sale, please call 0086-18727992788. We can design and refit for users' orders, and can install preheating and heat preservation devices, sprinkler functions, lighting equipment, steering assist, air conditioning and other accessories.
Wherever there is a fire, there is our Isuzu tank fire truck.
Give us a call now ! 0086-18727992788