4×2 ISUZU self loading garbage compactor truck
★ISUZU self loading garbage compactor truck also named Self loading and unloading garbage truck (named Automatic loading and unloading garbage truck,Self-loading automatic garbage truck,self load and unload rubbish compacting vehicle, ISUZU waste compressed lorry,ISUZU trash delivery selfing compacted van  )are mainly used for municipal sanitation and large-scale factories and mines to transport various garbage, especially for the transportation of residential garbage in residential areas.
The birth and development of garbage trucks is a major invention and creation for human society, especially for cities.
We customized it according our client inquiry .
High light of the ISUZU self loading refuse compactor 
——5tons capacity
——700P chassis 130HP engine .
——The emergence of garbage trucks can help sanitation workers to clean up garbage in time, and it is possible to turn garbage into treasure on the spot, which greatly reduces the work intensity of sanitation workers and alleviates the problem of urban garbage.
Give us a call now !0086-18727992788
Information of ISUZU self loading waste compacted truck
| | | |
| --- | --- | --- |
| self load and unload rubbish compacting vehicle | Options & Specifications | Note: |
| Outside Dimension of Truck | 7995mmLx2330mmWx3370mmH |   |
| Chassis Brand & Model | Isuzu (QL1100TMARY) | Chongqing Isuzu |
| Engine Model | 4HK1-TC |   |
| Engine Power (kw) | 139 |   |
| Engine Displacement | 5193 |   |
| Fuel Type | Diesel |   |
| GVW(kg) | 10000 |   |
| Tare Weight(kg) | 4895 |   |
| Rated Payload(kg) | 4910 |   |
| Axle Load(kg) | 3350/6650 |   |
| Front/Rear Suspension (mm) | 1110/2410 |   |
| Approach/departure Angle(º) | 21/11 |   |
| Wheelbase (mm) | 3815 |   |
| Front/Rear Tread (mm) | 1680/1650 |   |
| Axle No. | 2 |   |
| Maximum Speed (km/h) | 110 |   |
| Leaf Spring No. | 8/10+6 |   |
| Tyre Specification & No. | 825R20 (6) | Radial |
| Cabin | Single Cabin |   |
| Steering Wheel | LHD |   |
| Power Steering | Yes |   |
| Air Conditioner in Cab | Yes |   |
Subject
5 cubic meter Garbage Compactor body
Material
Q345 Carbon Steel, Baseboard 4mm, Side board 4mm
Body shape
Arc-shaped
compression ratio
≥2.5
Filler effective volume
≥1m³
Loading cycling time
≤25 s
Unloading garbage time
≤35 s
Operation control system
Electrically hydraulic control and Manual control
Hydraulic system pressure
16MPA
multiple directional value
Famous Brand in China
Hydraulic oil pump
Famous Brand in China
Hydraulic cylinder
Famous Brand in China
PLC Operating system
Siemens
Engine power control
Fully automatic control
 Barrel turning mechanism
Hang two 240L trash cans at the same time,(Optional other type of flip rack)
  

 

 

 

 

 

 

automatic loading waste truck Equipment

The new flat arc-shaped box body is made of high-quality carbon steel, with an effective compression volume of 6-7 cubic meters.PLC one-button operation control, double electric control on both sides and cab operation systems.

Two-way compression, the sewage tank can be easy to open and clean.

The compressed garbage truck adopts electromechanical and hydraulic integration technology.

With the combined automatic control system of machine, electricity and liquid, computer control and manual operation system, the garbage can be poured, crushed by special devices such as filler and pusher.

Strong filling, pushing the garbage into the compartment and compacting and shoving, all the sewage enters the sewage collection box, which solves the problem of secondary pollution during the garbage transportation.

ISUZU automatic compacted garbage truck structure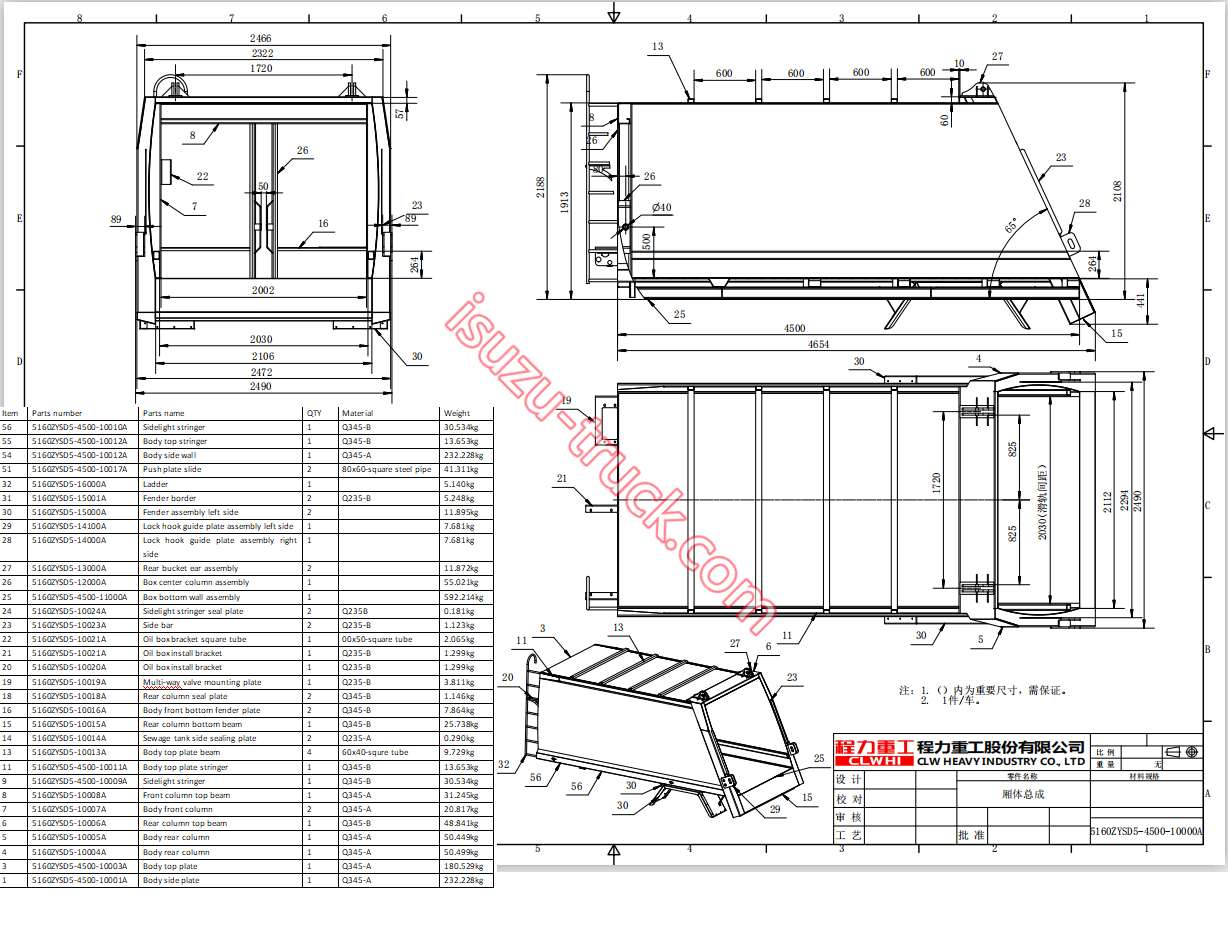 garbage truck body cylinder drawing
Offen questions of the ISUZU automatic compacting vehicle 
How to find a rubbish vehicle good supplier ?

We are the biggest special trucks manufacture in china .
How garbage self loading and unloading compactor truck works ?

generally speaking , a trash compactor function with a large ram that compresses the trash down , the ram is a metal piece of that sits above the trash , the operator or user will load up the trash compactor with whatever applicable waste there is and once secured ,will activate the ram and the compacting will begin .
How does a garbage truck work inside
The truck are loaded by sanitation engineers along neighborhood streets ,the trash is loaded into a hopper in the back of the truck of rear loaders
hydraulic cylinders operate the compacting mechanism ,which takes the trash our of the hopper and places it into the body of the truck
Where is the rubbish? Where is the  ISUZU compression garbage truck!
Give us a call now !0086-18727992788