Vehicle explosion-proof water cannon
police car named (Explosion-proof police car, Explosion-proof police car, Anti-refugee water cannon ,police car,Vehicle explosion-proof water cannon Police Crowd Management Water Cannon ,Vehicle Maintenance of security water cannon, Government Procurement of Water Cannon )
mobile water cannon simple introduce 
It is a new product that can protect the safety of police officers in the car and disperse large-scale crowds in a non-lethal way.
This car is a special police vehicle used to deal with sudden mass incidents and has multiple functions. "The front of the car is equipped with a clearing shovel, which can clear the obstacles in front of the car;
three storm water cannons. M.
The car is equipped with an independent auxiliary engine.
Equipped with roof anti-riot water cannon
front water cannon
spray protection system
anti-freeze protection system
hydraulic obstacle clearance system
video recording monitoring system
broadcast publicity system
net protection system
warning light warning system;
Explosion-proof police car Main useful
Vehicles Government police water cannon,government army water cannon, Crowd Management Special Purpose Water Cannon Vehicle, military police prevent mob ,The police riot water cannon is a public security system.
The ideal equipment for the armed police to deal with sudden mass incidents. The anti-riot water cannon can carry 10 tons of tap water, and can also be loaded with dyes and gas agents for alarming and blocking. The longest range of the water cannon can reach 60 meters.
An anti-riot barrier truck is loaded with 40 roadblocks, which can build a 60-meter-long iron wall to block the violent crowd. The car has excellent off-road performance, with a maximum climbing of 60%, a wading depth of up to 700mm, and a six-sided bulletproof function.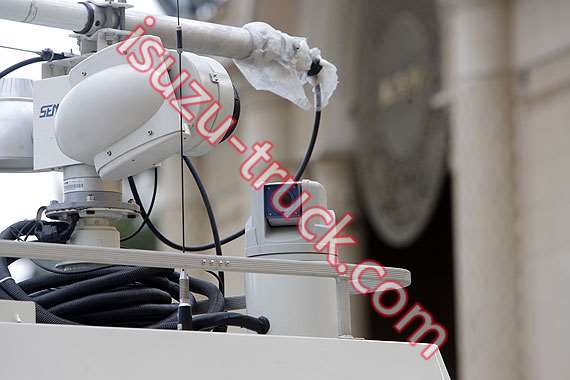 Details of more
Roof anti-riot water cannon: 1, range 75 meters;
pitch/elevation 30°/45°;
horizontal ±170° Front cannon system
Spray protection: 10 sprinklers on the body skirt;
6+6 nozzles on the roof and bottom PLC control system
antifreeze protection system
Hydraulic clearing system
Guard net protection system
Video surveillance system
Broadcasting system
Power system
Warning light warning system;
Optional configuration:
Remote control driving system
Strong light lighting lifting system
Tear gas launcher PTZ camera Private network communication Individual soldier equipment bag shelf
Features
The main gun is installed on the front top of the cab to reduce the blind spot of shooting;
The front auxiliary gun can be in the form of direct water column and large-scale flowering spray;
Double cab, 5 occupants;
Emission medium:
clear water, pepper water, dye;
Lamps and window glass are protected by stainless steel mesh, and the front windshield can be positioned in the range of 0° to 70° for indoor control;
Government Procurement of Water Cannon Optional
wireless remote control device: It can realize remote control operation of driving and anti-riot system.
Explosion-proof police car Performance parameters
Water carrying capacity: 6-8 tons
Crew: 5 people
Maximum range of main gun: 70 meters
Secondary gun range: 45 meters
Effective remote control distance: 300 meters
Contact us :0086-18727992788