portable mobile 700P ISUZU LED advertisement truck
ISUZU LED advertisement truck named,ISUZU LED screen truck ,ISUZU LED stage truck ,LED displaying lorry, outdoor ISUZU LED truck,LED displayer van.ISUZU LED truck media .ISUZU billboard truck,ISUZU moving LED track ,LED track for sale,ISUZU mobile LED event truck,LED media vehicle .mobile video vans .LED screen mounted on lorry .mobile LED vehicle with hydraulic lifting system,LED TV vans,ISUZU LED shopping truck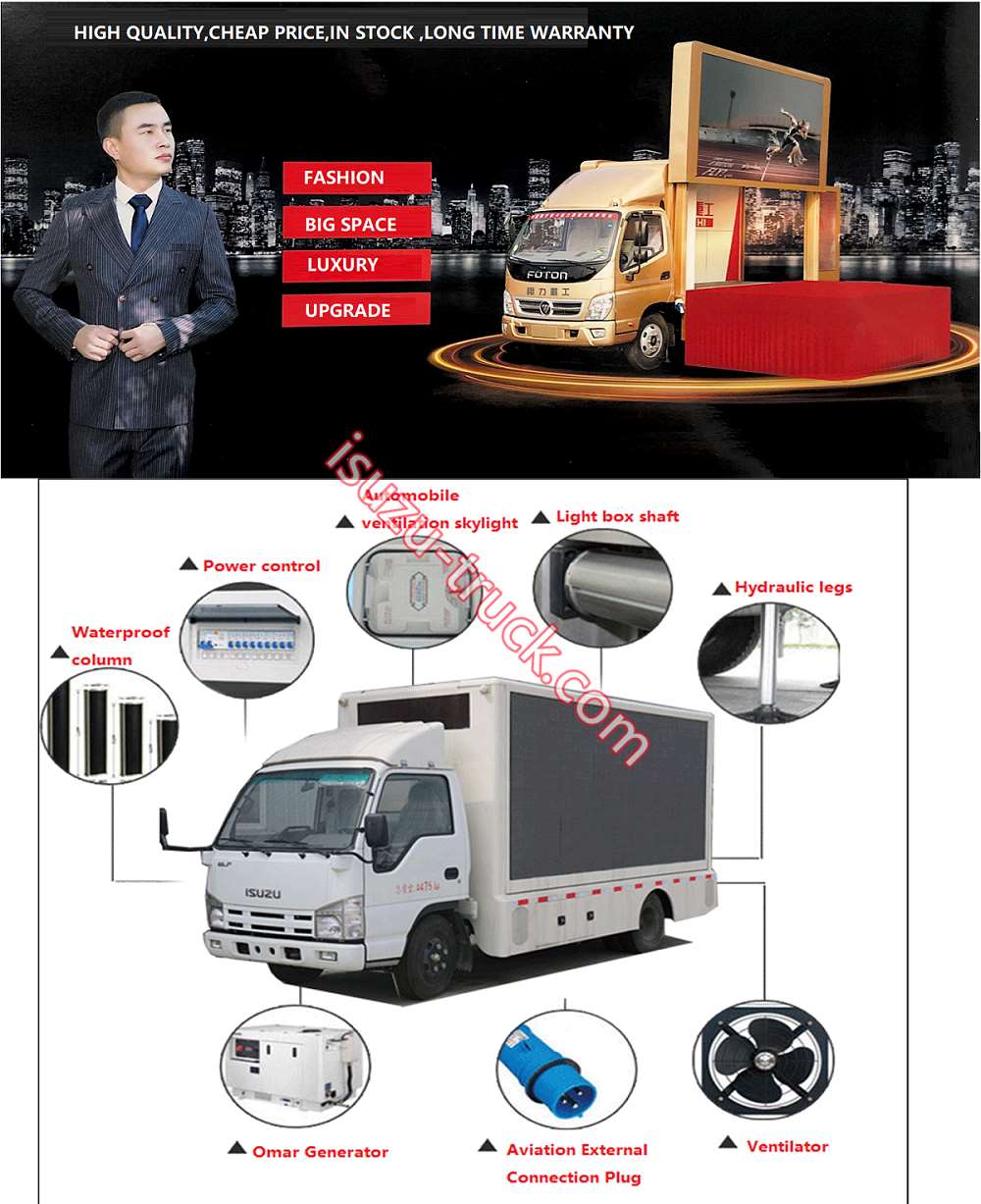 Why choose our factory?
ISuzu Mobile billboards ADVERTISING are the best quality we used in china. We offer from our 4 Best-in-Industry high definition ISUZU LED screen vehicle per ISUZU LED truck to the revolutionary GPS Tracking, automatic geotargeting, high-speed internet, online and serving and reporting and high power audio, so if you are trying to revolutionize the marketplace, the best way is with ISUZU LED screen truck.
Main information of this kind ISUZU LED advertising truck
Vehicle information list
Brand
ISUZU
Trucks name
QL1080TKAR
Total mass
7945
Rated weight
3950
Vehicle size
7000×2260×2500,2560
Curb weight
3800
Box size
5058×2150×450
Cabin seat
3
F/R hang
1110/2075
A/D angle
20/11
Wheelbase
3815
Leaf spring quantity
8/10+6
Tyre size
8.25-16
Axles
2
Front track
1680
Tyre quantity
6
Rear track
1650
Axles loading
4Tons /7tons
Max speed
110
Frame
216*70*6+3mm
Transimission
ISUZU MLD
Brake
Oil brake with vacuum pump
Air condition
Yes
Engine
4HK1-TC,5193ml displacment,129kw power,176HP horsepower
Remark :this one is 700P ISUZU truck with 176HP engine ,wheelbase is 3815mm
mobile ISUZU LED van Parameters name
Unit
Parameters size
LED parameter
Horizontal angle of view
110° (±55°)
mobile ISUZU LED van Vertical angle of view
50° (±25°)
LED display system
P4 full-color outdoor LED display
Multi-media system
IPC+ 15-inch display + professional sound system
Power supply system
outer power or built-in generator power
Average power consumption
0.5KW/m²/H
Total power consumption
9KW/H
Generator
Ouma
outdoor ISUZU LED lorry Electric system
Standard section:Button control and operate system (standard)
 
Deluxe section: CPU control and operate system (optional)
 
VIP section: touch screen, wireless,upper computer control and operate system(optional)
ISUZU LED advertising propaganda truck can be used for a series of exhibition openings, variety shows, award ceremonies, product promotion, business promotion, advertising media, outdoor activities, wedding celebrations, store openings, etc. Promotional activities have also been widely used in many industries such as catering, automobile painting, real estate, home appliances, communications, furniture, and heavy industry.
What the outdoor mobile billborad useful ?
1:ISUZU led VAN advertisement help you to get your message/brand/event to those who it will most impact, when they are ready to hear it, and where they are best situated to see it.
2:Our mobile ISUZU LED video truck take your brand to the streets using our ISUZU billboard truck, and interact directly with your clients, let he/her try or choose your product, or to engage with you in real-time.
3:ISUZU Mobile advertising trucks is use on road for who sees your message and how ISUZU Outdoor advertising truck impacts them is a function of when and where they are going. That is about to change, thanks to ISUZU Mobile billboards.
Welcome you come to china and visit our factory!
Give us a call now! 0086-18727992788