ISUZU Vacuum Combined Jet Sewage Suction Truck
ISUZU vacuum sewage combined jet Truck named ISUZU portable jetting Vacuum Suction Truck,ISUZU pressure jetting sludge Truck,ISUZU jetting slurry truck ,ISUZU pressure pump jetting sewer truck, ISUZU pressure jetting clean Sewage Treatment Truck,ISUZU jetting Septic Tank Suction Truck, ISUZU jetting Sludge Cleaning Truck,ISUZU flushing jet Sewage suck tanker truck
Simple introduce the ISUZU vacuum sewage combined jet Truck
ISUZU vacuum sewage combined jet Truck is a new type of sanitation vehicle that collects, transfers, cleans and transports sludge and sewage, and avoids secondary pollution.clean Liquid substances such as crude oil.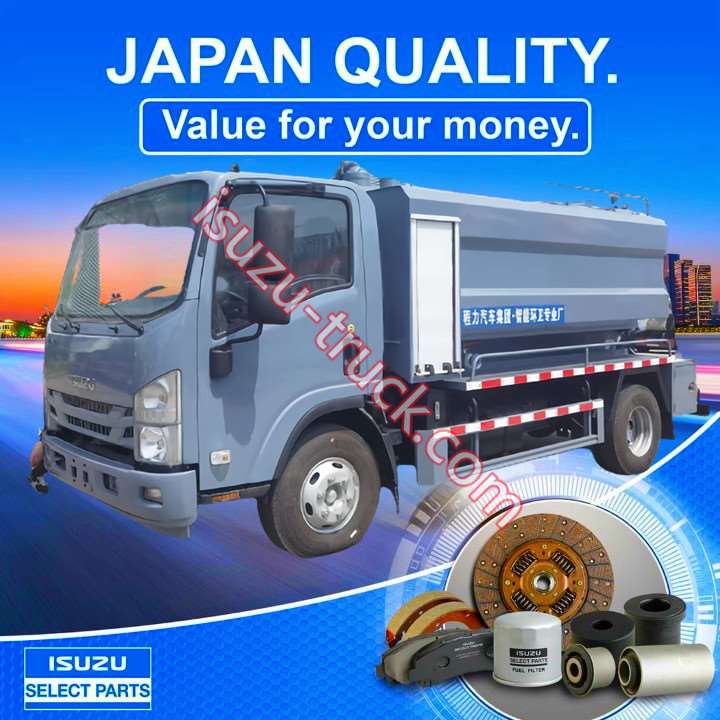 The ISUZU jetting sewage suction truck adopts the domestic technology-leading vacuum pump of the jetting pressure sewage suction truck, which has a large suction force and a long suction distance. It is especially suitable for the suction, shipment and discharge of the sludge in the sewers, especially the sewage sludge, silt, stones and bricks. larger objects such as blocks.
Vehicle information list
Important specific
Engine horsepower:190HP

Engine standard:euro 3

Tanker material :carbon steel

Tanker volume:5+2

Brand
ISUZU
Trucks name
QL1072A5KAY
Total mass
12005
Rated weight
7950
Vehicle size
8350×2260×2560
Curb weight
5860
Tanker size
5508×2150×450
Cabin seat
3
F/R hang
1110/1835
A/D angle
19/13
Wheelbase
3815
Leaf spring quantity
3/3+2
Tyre size
8.25-20
Axles
2
Front track
1685
Tyre quantity
6
Rear track
1525
Axles loading
4Tons /7tons
Max speed
105
Brake
AIR brake
Air condition
Yes
Engine
ISUZU engine ,139kw power,190HP horsepower
More tanker equipment
Oily water separator, air water separator, special vacuum excrement suction pump, pressure volume gauge, pipeline system, the sucking tube, flow valve, vacuum tank, a communicating device (as the dung window), automatic anti-overflow valve these parts
Vacuum pump
Vane rotor pump with 4-way-value
Suction tube diameter
108mm
High pressure water pump
Bentian brand
assembly
Oil-water separator,

gas-water separator,

Hydraulic self-unloading device,

Special vacuum suction pump,

Pressure volume table,

Pipe network system,

Aspiration catheter,

Gravity valve,

Vacuum tank,Connector ( depending on the dung window ),

automatic anti-overflow valve,
Introduction of cleaning and suction truck functions:
The ISUZU cleaning sewage suction truck is also called a multifunctional sewage suction truck or a combined dredging vehicle.
Assembly parts
The special part is composed of power take-off, drive shaft, vacuum sewage suction pump, water-gas separator, multi-way reversing valve, clean water tank, window, vacuum pressure gauge, pipe network system, etc.:
Useful
used for suctioning sewage and sludge It has the characteristics of high suction efficiency, self-priming, self-draining and direct irrigation. It is widely used in sanitation, municipal, chemical, factory and mining enterprises in large, medium and small towns. , property community use.
And on the basis of the sewage suction vehicle, the high-pressure cleaning vehicle function is added, which can be used for two purposes, saving money and effort, and is cost-effective.
The tank body and metal accessories are treated with phosphating before painting, sprayed with polymer anti-corrosion primer and metal topcoat, with strong adhesion, good corrosion resistance, uniform paint film, bright and lasting color, improved aesthetics, and can withstand In humid, dusty, salt spray and other adverse environments, long-term use will not cause problems such as cracking, peeling, fading, etc., which not only improves the aesthetics of the product, but also effectively prevents corrosion.
This high-pressure cleaning and cleaning sewage suction truck integrates the functions of washing, dredging, sewage suction and reverse discharge.
It is used for the suction of various liquid, semi-liquid, and sludge, feces, waste water and other media under various ditches. It is used for suction, shipment and discharge, and can also be used for emergency treatment of sudden environmental pollution accidents.
This will greatly improve the efficiency of cleaning and suction trucks and enhance their operational capabilities.
Breaking through the previous cleaning and sewage suction truck products using advanced technology from domestic and foreign companies, through digestion and absorption, and fully utilizing vacuum technology, the double anti-overflow pump device can better avoid overflow and prolong the service life of the vacuum pump.
The whole vehicle has reasonable design and structure, excellent performance, flexible and simple operation.
 ISUZU portable jetting Vacuum Suction Truck Suction part
Start the vehicle, hook up the power take-off, drive the sewage suction pump, and the sewage suction pump operates to extract the air in the sewage tank.
Since the sewage suction hose is always immersed in the liquid surface, after the air in the sewage tank is sucked, it cannot be Supplement and become thinner and thinner, so that the pressure in the tank is lower than the atmospheric pressure, and the sewage liquid enters the container through the sewage suction hose under atmospheric pressure;
ISUZU pressure pump jetting sewer truck

High-pressure cleaning part:
Function: The strong pressure generated by the high-pressure water flow flushes out the blocked pipes The middle of the tank is reasonably designed with a wave-proof board
The volume of the clean water tanks on both sides is 4.5 cubic meters, made of WISCO steel plate, the wall thickness is 4 thick, and the two warehouses are interconnected. (It can also be used as a water inlet) with water and sewage intercommunication function, and stainless steel filter screen is installed.
The water inlet of the water tank is a ball valve type fire hydrant (convenient to switch and durable), with a fire interface and a pagoda-type handwashing valve
High pressure The pump adopts German Pinfu 215L model, 22 MPa pressure, two stainless steel large-diameter filters (to prevent impurities from entering the pump) 5. The sewage suction pump adopts Shandong Zibo Haosai SK-12 water circulation vacuum pump, with high precision and large suction

Where there is a toilet, where there is mud, where there is waste, there is a ISUZU pressure jetting sludge Truck.
An this kind jetting sludge vacuum truck can give you a clean world!

welcome you come to china and visit our factory any time .24 hours hot line 0086-18727992788(xi chen)