ISUZU aviation refuel truck  named aircraft refueling truck ,jet a-1 oil wagon,isuzu airplane refilling truck, ISUZU aircraft loading helicopter refueler tanker, aviation refueler fuel truck,helicopter fuel tanker,aviation fuel bowser,copter oil transport truck, JAT A-1 fuel jetting truck, aircraft oil jetting truck ,airplane oil bowser truck
Introduce of the ISUZU aviation refueler truck 
The helicopter oil refuel truck tanker is made of 304 stainless steel or aluminum  ,it is cold -rolled plate , the tank truck welded by argon arc welding , the welding line is polished smooth without sharp angles ,the tanker truck has special filters and pump dispenser  . easy to jetting fuel to copter .
High light feature of the ISUZU aviation JAT A-1 refueler truck .
It is mainly used for delivery and storage of helicopter oil , and it has a refueling system for refilling oil to the small airplane ,etc , it with fuel suction ,fuel refilling and pumping fuel function .
Main information of the ISUZU refuel helicopter refueling truck 
Tank
Volume
7000 Liters ( petrol / diesel )
Material
Aluminum alloy  , 5 mm

Equipment

 European standard manhole,stainless steel sea valve , anti-overflow probe , electrostatic wiring terminal ,

gauge:Float level gauge , Sampling Valve with Filter Sampling Valve and Filter Separator Sewerage Outlet Sampling Valve,HYJ-63 joint valve, 50WGF-50/10 filter separator, flow meter with waist wheel, high-level safety guardrail

Fuel Dispenser
Model 60/30
 60/30 ,speical pump for aviation fuel , aluminum alloy material  500Liters per min
Brand
Hangzhou Weilong
Refuel Hose
20 m ,automatic homing
chassis information
Vehicle information list
Brand
ISUZU
Trucks name
QL1073BUKAY
Total mass
12520
Rated weight
6000
Vehicle size
7395×2260×2860
Curb weight
5150
Tanker volume
7000Liters
Cabin seat
3
F/R hang
1110/2470
A/D angle
19/8
Wheelbase
3815
Leaf spring quantity
8/6+5
Tyre size
7.00R16LT
Axles
2
Front track
1685
Tyre quantity
6
Rear track
1525
Axles loading
4Tons /7tons
Max speed
110
Frame
216*70*6+3mm
Transmission
ISUZU MLD
Brake
Oil brake with vacuum pump
Air condition
Yes
Engine

4HK1CN6LB,2999ml displacement,88kw power,120HP horsepower

Euro 6 standard engine

Remark :this one is ISUZU truck with 120HP engine ,wheelbase is 3815mm
Tanker volume
5000Liters
Accessories

1 unit installation fridge

1 unit food cupboard

1 unit buffer

1 unit water tank

1 unit spare tire carrier basket

1 unit wheel chock and the connection

1 unit fire extinguisher cabinet

Manhole diameters
500
Manhole height
250
Thickness
5mm
Lateral protection
2 sets strong steel installed on either side of the tank
Extinguisher holder
Two fire extinguishers installed as following: one at the driver's side next to the skate, and another next to the passenger side on the back side of the drawer valve
Bumper
China standard
Electric EQ
Light 6sets
Dust guard
2 dust guard of rubber(include our brand)
ISUZU aircraft refueler tanker truck structure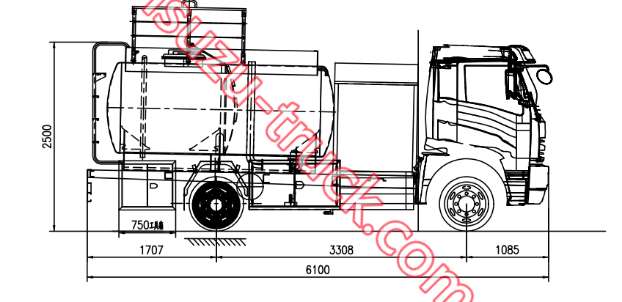 Other names
helicopter refueler oil tanker vehicle ,refueling oil truck ,refilling fuel truck ,oil pump truck ,helicopter fuel metering truck,chooper  fuel dispenser truck, fcopter fuel dispensing truck,oil transport truck ,aviation JAT A-1 oil truck,fuel delivery truck,oil carrier, fuel lorry ,refueler tank truck diesel gasoline tanker bowser ,fuel oil dispenser truck ,aluminum alloy oil truck , carbon steel tanker, oil transfer truck ,fuel transfer truck,petrol crude oil
Question of people often asked 
1:What is a airport aviation truck ?
one kind tanker truck for transportation airplane fuel and storage oil .
2:How to refueler helicopter fuel to copter/chooper
The vehicle has dispenser and pump and filling reel for refuel fuel into small helicopter
3:How to find a aviation refuel truck ?
Find a factory who can produce the airport tank truck .
4:Can you produce military aircraft refueling trucks ?
Yes we can .
5:How much of aviation fuel tank truck price ?
It is according the tanker vehicle size .
6:Capacity of the helicopter refueler truck?
We produce from 2000Liters to 50000Liters different size tanker machine .
We customized isuzu aviation oil refueling truck according our client inquiry .
Give us a call now ! 0086-18727992788