20T 30T GIGA ISUZU recovery truck
GIGA ISUZU recovery truck also called (ISUZU road towing truck ,ISUZU GIGA road rescue  wrecker ,ISUZU GIGA wrecker Truck ,ISUZU 20T wrecker truck,ISUZU 6×4 recovery truck ,ISUZU GIGA car carrier truck    ( Heavy, Medium & Light) )
ISUZU GIGA recovery truck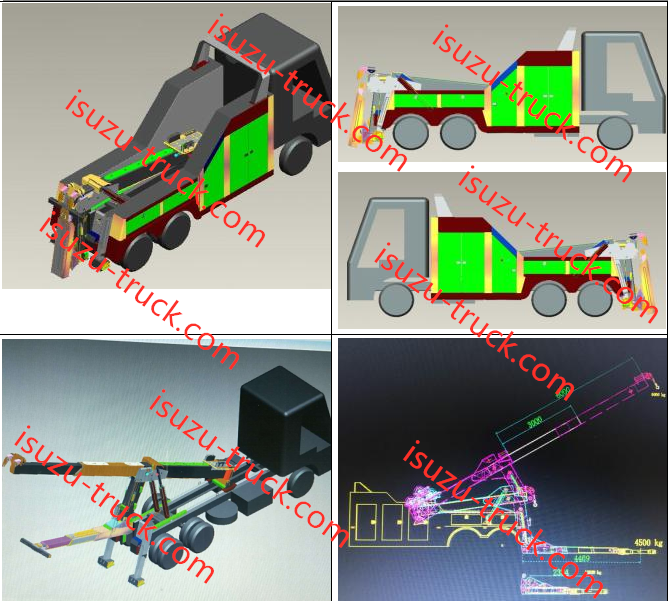 As one of the largest special trucks in China.
CLW ISUZU 30T wrecker truck  is capable and qualified to handle your assets!
We take pride in offering the highest quality ISUZU 20T wrecker Truck ,service, reasonable rates, and account management for repeat clients.  Call 0086-18727992788 now!
Our ISUZU recovery truck is available to the public throughout the all over the world!
CLW made ISUZU GIGA wrecker is a trusted wrecker towing wrecker, it use ISUZU chassis ,mounted 20tons to 25tons wrecker body .high quality ISUZU road wrecker winch installed on it .
Give us a call now !  0086-18727992788
Main specific of ISUZU road wrecker towing truck
GIGA ISUZU road tow truck Main specific
Vehicle size
9500,9800×2550×3995(mm) 
Total weight
25000(Kg) 
Curb weight
13700(Kg) 
Rated weight
11170(Kg) 
Cabin seat
2
fuel consumption
43L/100km
A/D angle
17/17(°)
F/R hang
1370/2775,1370/3075(mm) 
Wheel loader
7000/18000 double
Wheelbase
3985+1370(mm) 
Axles quantity
3
Max speed
80(km/h)
Leaf spring
8/10
Tyre quantity
10
Tyre size
12R22.5 18PR,295/80R22.5 18PR,11.00R20 18PR
Front track
2065 
Rear track
1855/1855 
Engine parameter
Engine model
6UZ1-TCG51
Displacement/power
9839ml/350kw
Body information of ISUZU road towing truck
20tons wrecker update body parameter

ISUZU 20T wrecker truck

Max towing weight
>=60000kg
Wheel lift Max lifting weight
20000kg
Wheel lift Full extended of the maximum lifting capacity
9500kg
Wheel lift effective length
1460mm to 3599mm
Wheel lift extension stroke
1639mm
Wheel lift folding angle
-7 C to 93 C
Full retraction of the upper surface of the cross arm from the ground
900
Full retraction max lifting capacity
20000kg
Full extension max lifting capacity
8000kg
Boom max length
5470mm
Cylinder extension stroke
3300mm
Max lifting height
6500mm
Lifting boom up angle
5.0C to 33C
Hydraulic Winch
2
Winch capacity
Each winch is 25tons , two units total is 50tons
Winch rated towing capacity
250×2 kN
Rope diameter
26mm
Rope length
45×2 m
Rope min speed
5.5m/min
ISUZU GIGA road rescue  wrecker  boom
The main boom is built of rectangular steel profiles and is equipped with a reinforced mounting plate for the main recovery winch at the front end. Lifting of main boom is effected by two hydraulic cylinders.
FAQ of ISUZU road car carrier truck 
Q: A you a factory or a trading company ?
A: We are the biggest factory in china of special trucks.
Q: Payment is safe or not ?
A: Safe, we have our own company account , and if you have any questions, also accept Paypal , alibaba payment .LC payment .
Q: Production time of GIGA ISUZU road tow truck?
A: If quantity does not reach to 5 units , production time just need 15 working days .If your order is a big order, we will talk the production time face to face.
Wherever there is danger, there is our Isuzu towing truck, wherever rescue is needed, there is our wrecker
Excellent craftsmanship and painting
An rollback Isuzu car carrier truck can give you a safe life!
welcome you come to china and visit our factory any time .24 hours hot line 0086-18727992788(xi chen)