4×2 4000L ISUZU ELF street sweeper cleaner
Isuzu street Sweeper cleaner (also name ISUZU road vacuum sweeper truck,ISUZU dry and wet sweeping vehicle,ISUZU vacuum cleaner street car, ISUZU sweeping street suction truck, ISUZU sweeping road truck)is an innovative street sweeper developed by the CLW factory.
The sweeper adopts our company's original V-shaped nozzle cleaning technology, which integrates the functions of a road sweeper and a high-pressure cleaning vehicle.
It can not only perform road sweeping or washing operations independently, but also perform road scrubbing operations at the same time.
Isuzu road sweepers have outstanding features such as no dust during operation, no dust left after operation, long operation time and stable operation performance. It is especially suitable for the cleaning operation of the main roads of the city.
We customized ISUZU street cleaner truck according our client inquiry .
Give us a call now !0086-18727992788
General Details of the ISUZU street sweeper cleaner truck
Production Quantity
1 to 200 per month
Model of the ISUZU sewer suction truck
100P
 Vacuum tanker chassis
4×2 left hand drive
Condition
New
Manufacture
Chengli special automobile co.,ltd
Transmission
Manual 5-speed
Vacuum truck number of axles
2(front one , rear one)
Engine capacity
98HP ISUZU engine 4HK engine
Vacuum Tanker
4000Liters water tanker made by carbon steel 1200Liters dust suck tanker made by stainless steel
ISUZU water truck Exterior
According client requestRed ,green,white ,yellow etc
Payment term
T/T.L/C,paypal
Warranty
1 year
Training
We offer free cost training
Convenient transportation
Near has high speed train station (suizhou train station )Has nearest air port (Wuhan tianhe international airport )
ISUZU road sweeper cleaner

SPECIFICATION
street SWEEPER
CAPACITY INFORMATION
Hopper volume
4m³
Water tank capacity [L]
                                              1,200
AUXILIARY ENGINE INFORMATION
Brand – Model
ENGINEB140-33 cummins 103KW
Cubic Capacity
Number of cylinders
                                                      4
Type
diesel engine
Power
 103KW
SWEEPING EQUIPMENT
4cylinder

Max rotation speed:2500RPM

Max horsepower:110HP

Max torque:502N.m

Displacement:3900ml

Standard:euro 3

Side brush
                                              800
Middle brush
800
Suction hose
                                     200
Suction nozzle
1100
SWEEP WIDTH MAX.
Channel brush + suction nozzle only [mm]
2800 to 3000
Channel brush + suction nozzle + centre brush approx. [mm]
2800 to 3000
GENERAL INFORMATION
Chassis requirement
Wheelbase
Dump height
Hydraulic pump displacement
Sweeping speed
0-20
FAN
Operation speed
More than 25000m2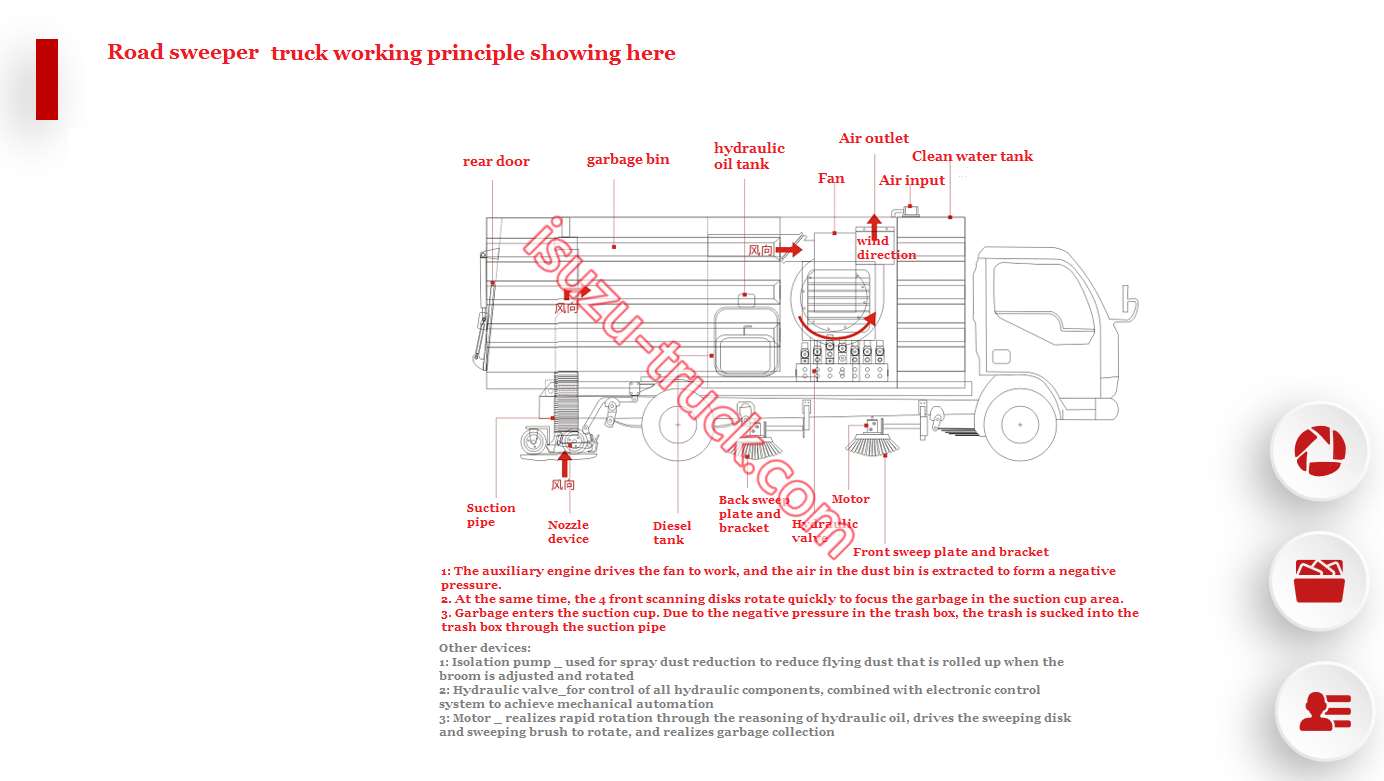 Feature
The ISUZU road clean truck vehicle adopts the structural configuration of central four-disc cleaner + central V-shaped high-pressure nozzle + rear single-suction nozzle. The standard configuration operation mode has three modes: full cleaning, full cleaning, and full cleaning. Nine operating modes of full wash, left wash, right wash, full wash, left wash, right wash, full wash, left wash, and right wash are available.
Details pictures of street sweeper truck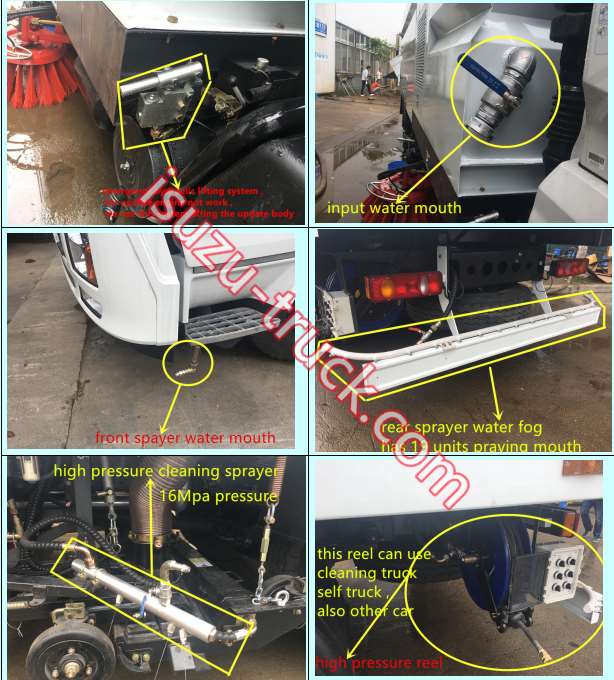 The high-pressure water pump is independently controlled by an electromagnetic clutch, which can switch between cleaning and flushing operations at any time, integrating the functions of a
ISUZU sweeping street suction truck
 and a sprinkler. This truck is versatile and can be used in all four seasons.
Wet clean washing system showing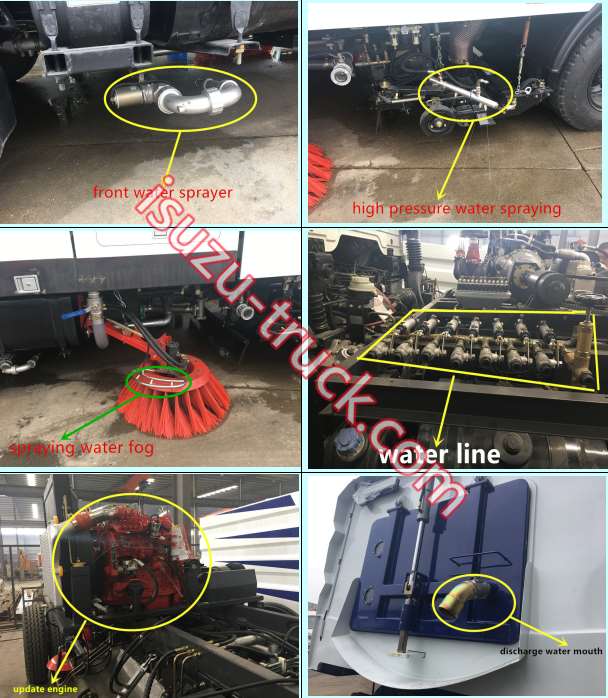 The high-pressure cleaning system adopts the arrangement of "V-shaped nozzles and semi-circumferential nozzles without gap high-pressure nozzle devices". The tailgate butterfly valve sewage discharge device can effectively separate sewage and sludge, and can discharge sewage separately according to the sewage situation in the garbage container at any time, effectively prolonging the continuous operation time and greatly improving the operation efficiency.
Sweeping and spraying booms have automatic obstacle avoidance protection function to protect components from damage.
The world's roads need a high-quality ISUZU dry and wet sweeping vehicle!
Give us a call now !0086-18727992788