exported ISUZU LED VAN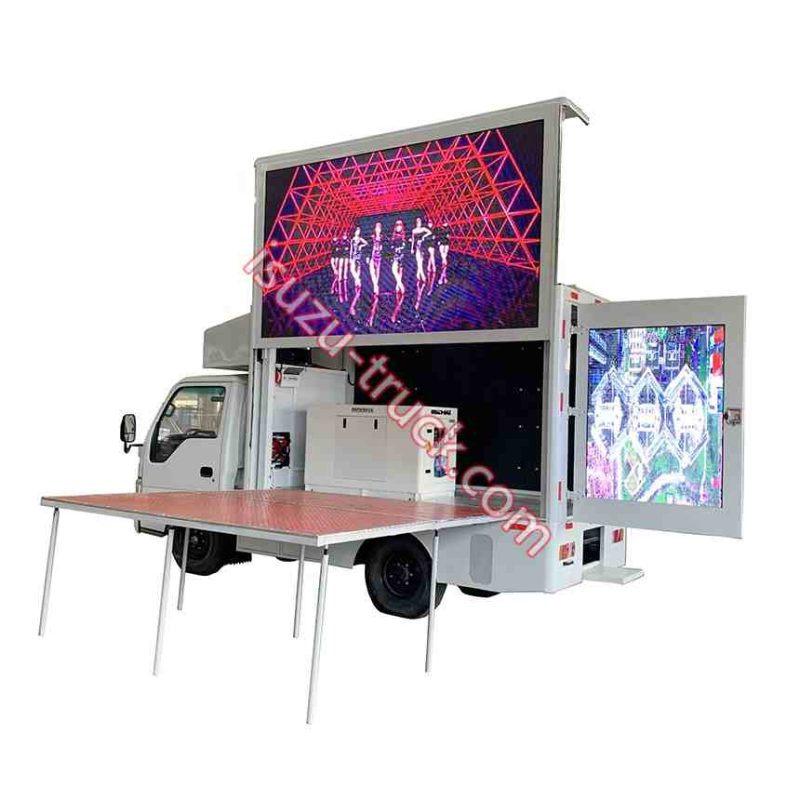 exported ISUZU LED screen advertise/advertisement/adversting lorry/cargo/van names displaying advertise lorry
main special of the ISUZU advertisement van
Parameters name Unit Parameters size
ISUZU LED screen van parameter
Horizontal angle of view 110° (±55°)
Vertical angle of view 50° (±25°)
ISUZU LED advertisement truck LED display system P4 full-color outdoor LED display
Multi-media system IPC+ 15-inch display + professional sound system
Power supply system outer power or built-in generator power
Average power consumption 0.5KW/m²/H
Total power consumption 9KW/H
ISUZU LED advertisement truck Generator Ouma
ISUZU LED advertise truck Electric system Standard section:Button control and operate system (standard)
Deluxe section: CPU control and operate system (optional)
ISUZU LED advertise truck VIP section: touch screen, wireless,upper computer control and operate system(optional)
outdoor advertising truck can cover major business districts, business and financial districts, crowd residential areas, airports, stations and other areas, travel, home, official business, shopping have the opportunity to contact the impact of high-frequency advertising.
ISUZU LED screen lorry High arrival rate
According to authoritative survey results, body advertising is the media with the highest reach rate in outdoor advertising. Forcing passengers to accept advertising information is mandatory, and the effective arrival rate is extremely high, which greatly strengthens the cognitive process of advertising audiences on products and brands.
High liquidity
The car mobility is large, not limited by the region, can shuttle through every corner of the town, its influence is deep, the scope is wide, the audience is large, not limited by time and line, and the portable advertisement can convey information to the masses anytime and anywhere, which is incomparable to other advertisements.
ISUZU LED cargo Carriage configuration
3 layers of anti-rust primer on the bottom of the exterior of the car body. Dual vents on the right side of the hull. The rear door of the carriage is an upturned door panel, which is powered by air springs and is equipped with a hidden door lock. The rear width of the cabin is equipped with blinds for heat dissipation. The interior of the carriage is equipped with an exhaust fan. The underside of the carriage is equipped with a beautiful large enclosure, front and rear guardboards. The operator station is mounted in the cab for easy handling.