qingling FTR dust suppression truck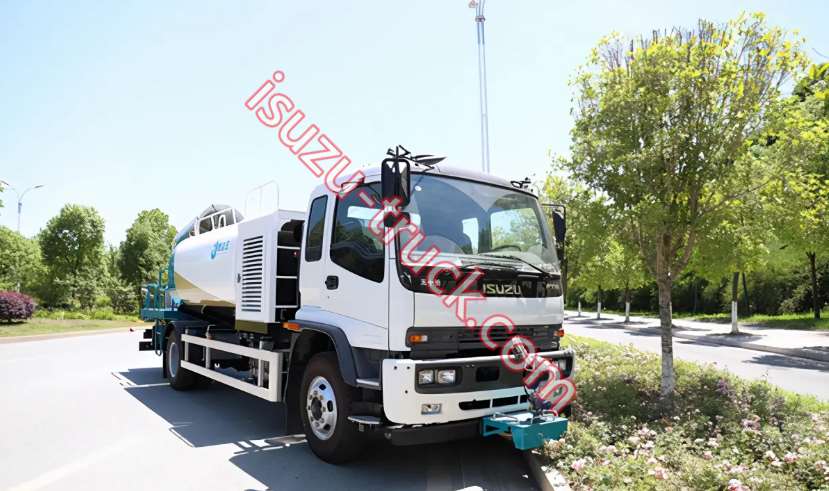 This qingling isuzu dust suppression truck adopts the Qingling Isuzu FTR row semi-cab, and the cab adopts high-strength galvanized steel plate and closed structure, forming an effective anti-collision protection zone and protecting the safety of drivers and passengers.
Equipped with the world's leading Isuzu 4H engine, it adopts Denso's electronically controlled high-pressure common rail system, which can generate stable high fuel injection pressure at low and high engine speeds, better fuel atomization effect, more complete combustion, better power, lower emissions, smoother operation and lower noise.
Isuzu high-quality chassis enriches the engine power specifications, wheelbase series, and load tonnage and combines more than 10 kinds of modified vehicle chassis, which can meet the modification needs of various superstructures; High load capacity frame: using 258×80×10 specifications, the overall U-shaped structure, can not only meet the heavy load requirements, but also meet the needs of various modifications. Front axle: the world's advanced forging equipment and technology production of the integral end fist F063 front axle, strong bearing capacity, maximum load of 6.3 tons, stable and reliable quality. Rear axle: RT210 rear axle produced by the world's advanced stamping, welding, machining and assembly production lines and processes, with a bearing capacity of 21 tons, can meet the heavy load requirements of users. Steering control: equipped with hydraulic power steering device, scientifically designed steering trapezoid, so that the steering operation is light. The steering wheel angle and height can be adjusted, so that drivers of all sizes can operate it handy; Accelerator pedal operation: light, labor-saving, easy to control; Shift operation: lightweight, labor-saving, clear gears.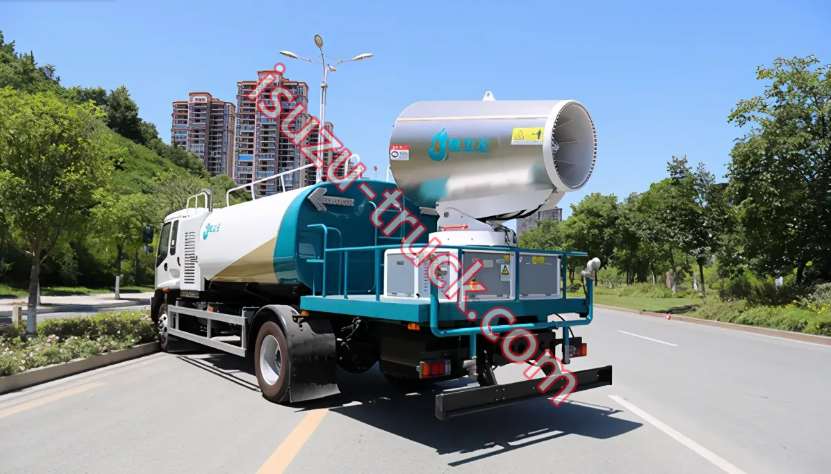 The car's upper body is made of high-quality carbon steel plate, and the tank body is made of high-quality carbon steel plate, which is rolled and formed by advanced technology at one time. There are two waveproof plates made inside the tank, that is, support plates, which can make the tank stronger and more stable, and drive more safely on the road. A can mouth is made at the top of the tank body, and safety handrails are also made on both sides, which can facilitate the entry of later maintenance personnel; Make a safety ladder at the end of the tank to facilitate staff to get up and down.
The sub-engine chassis is reserved in front of the tank, and there are shutter doors on both sides to facilitate heat dissipation and later maintenance; The working platform is made at the tail of the tank, which is made of pattern plate, which can be non-slip. The side protection is made of aluminum alloy and bolted; The rear protection adopts cold-formed steel/Q235, welded connection.
The special device is installed with a high-power special sprinkler pump. There is a self-priming and self-draining function, the ball valves are made of aluminum alloy material, the function is equipped with front flushing, side spray, rear sprinkler and electronic sprinkler cannon as standard, and all are installed pneumatic ball valves, which can be operated by using the electric control box in the cab with one key, which is very convenient.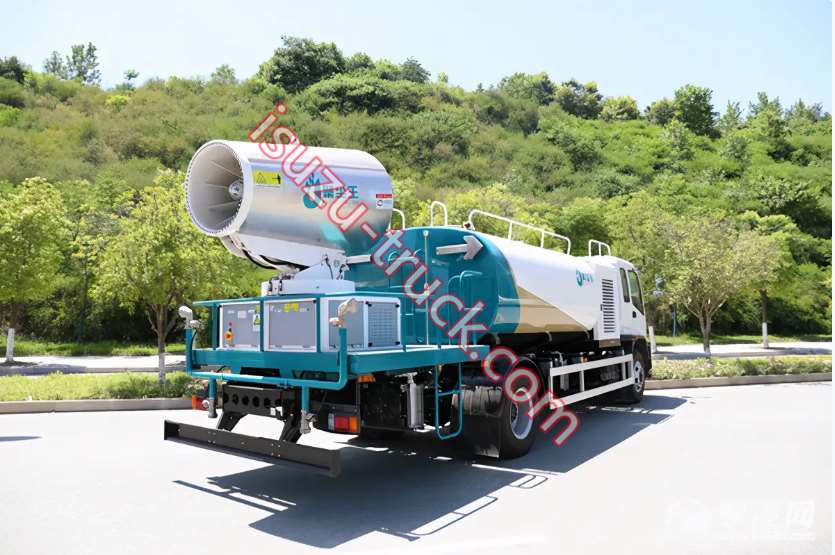 The 80-meter fog cannon unit installed on the working platform is made of stainless steel, which is not only environmentally friendly, low noise, but also intelligent, and an electronic screen monitoring system is installed in the cab, and can be operated with one button, which is more intelligent.
The whole vehicle can be used for green irrigation, spraying, road maintenance, spray dust reduction, anti-aircraft gun spraying, etc., with a wide range of applications and high work efficiency. The car is not only equipped with a visual position bright tube, but also with a low water level alarm, so that the driver can know the amount of water in the tank in advance from the cab.